The Bennett Family: Life After Death Part 1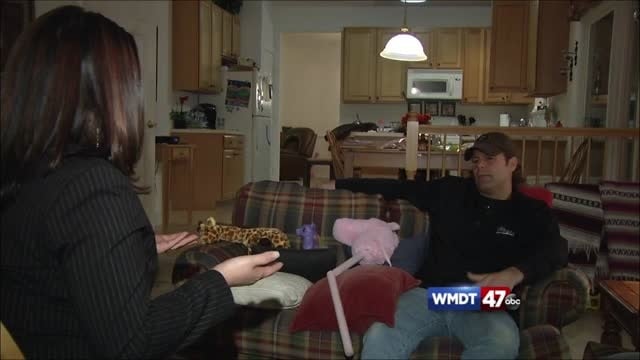 It is now more than two and a half years since the murder of Nicole Bennett.
Her accused killer, Matthew Burton of Dagsboro, is behind bars in Georgetown, waiting to stand trial on charges of kidnapping, rape, and murder.
A spokesperson with the Delaware Attorney General's Office tells 47 ABC they are still waiting for the court to set a trial date. And it won't be until a date is scheduled that state prosecutors and defense attorneys can say how much additional time they might need to prepare.
In the meantime, the Bennett family is now speaking out, for the very first time since Nicole was murdered.  They chose to share the story in an exclusive television interview only with 47 ABC's Emily Lampa.
"I try to remember the good memories that we had, but I don't know," explains Nicole's widower, Kevin. "I start doing that, and I start getting sad. It's tough."
Kevin Bennett admits this is the first time he is openly talking about the loss of his late wife, Nicole, outside of his family and counselors.
"Oh, I still struggle. It could be just a memory. Like, I'll go somewhere or I hear a song on the radio, or something, and I just start feeling sad again. Or, you know, there's always the anger. Just a lot of different emotions, and it's tough.
"And we have good days. We'll have good days and then I'll just start thinking about her."
This past September would have marked Kevin and Nicole's 17th wedding anniversary. Their three daughters are now 13, 11, and 3 years-old.
But the night of June 15th, 2012, that life for the Bennett family turned from picturesque to grim.
Nicole was working late that night at Bayshore Community Church in Gumboro.
She would never return home to her loved ones.
"I think at first, of course, you're numb. You don't feel a lot," Kevin's mother, Mary Bennett tells Emily Lampa. "I think we all have kind of been numb, and I think it's wearing off a little bit."
Mary now fills a huge support role for her son and her three granddaughters, "I can't imagine doing anything else. I love them so much.
"It's hard at times. I'm 64, and I didn't know this was going to be something that wasn't in my retirement plan. But I am so honored to be able to do this for Nicole."
Mary and Kevin asked that we not discuss the details of the upcoming criminal and pending civil trial arising from Nicole's brutal murder.
Not just for fear that it could influence the outcome of those cases, but also because some details are just too difficult to recount.
"Right after it happened," remembers Mary, "my husband and I went to a counselor, a renowned counselor around here. And he kind of looked at me, and we were talking about Kevin at the time, and he said, 'I don't even know if I would know how to counsel Kevin.'
"He said there are so many facets of pain with what happened. And it's not just a normal, 'you lost somebody'.
"I would say it's easier now. I don't think I could have probably gotten through this conversation two years ago without just breaking down in tears. I still cry."
What has helped the family is the continued support of friends, neighbors, and the generosity of strangers.
For instance, Mary explained how a retired state trooper gave Kevin the opportunity to purchase the home they are now living in for what he could afford. He apparently even left the furniture in it.
"You know, the girls need their own rooms. They each deal with so much.
"I think we each deal with it in our own way. I've seen the girls each deal with it in their own way. And Kevin. And I worry about all of them…everyday."
But now that the initial numbness is wearing off, the family is sharing stories about Nicole. Just one step on what they know is still a long painful journey ahead.
"Nicole and I, we shared shoes when she was alive," recalls Mary, as she gestures to the shoes on her feet. "These happen to be Nicole's shoes.
"We used to talk about it, because we both like comfortable shoes. And sometimes, when I put these shoes on, it's like I feel honored. That I'm walking in her shoes. And I love these girls more than life, and I love Kevin.
"And just to be able to do this for her, I think one day, when I see her again, that we're going to hug about that."
The Bennett family spoke at length with 47 ABC's Emily Lampa about how they're doing now. That includes Nicole and Kevin's 3 daughters.
In part two of 47 ABC's exclusive report, the girls share their stories and their memories of their mom.