Parents outraged over redistricting proposal for Delmar Elementary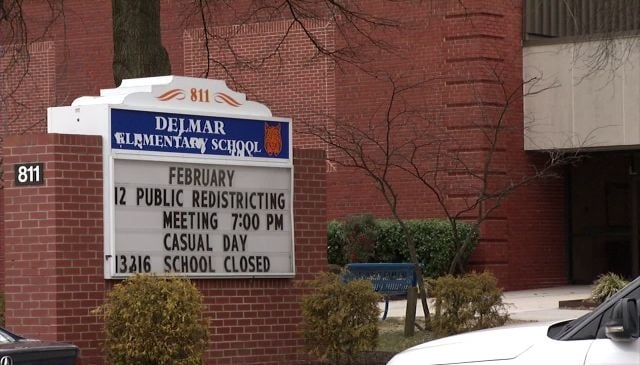 Hundreds of families live within the limits of the Delmar School District, with some just miles away from Delmar Elementary School.
However, the education factor that drove them to buy their current homes, many worry, is at risk.
"We overpaid to be in our school district because that's where we wanted our kids," says April Weed, a parent in Delmar, Maryland.
"I drove two hours to go to Wilmington every day to go to work so I didn't have to move, I want my kids to go here," says Jacob Boothe, also a parent in Delmar, Maryland.
A redistricting proposal would move 107 students from Delmar Elementary School to North Salisbury Elementary, Willards Elementary, or Pittsville Middle-Elementary, depending on the students' grade and location, according to a proposed map.
"If we are going to move a boundary, we try not to split neighborhoods, we try to be very sensitive to our community neighborhoods," says Dr. Cathy Townsend, assistant superintendent of Wicomico County Public Schools.
According to Dr. Townsend, the redistricting effort hopes to balance enrollment in the county, especially in areas like Delmar Elementary and Parkside High School, which are reportedly the two most over-crowded schools in the district.
The plans to move students around are also an effort to adjust to future changes in facilities, such as the opening of the brand new Bennett Middle School next year.
Still, some parents say, they would rather have their students in overcrowded schools than moved.
"Put more portables out," says Boothe. "I see the teachers, I know the teachers, they care about the kids are they going to get that at another school."
Parents, many of which are taxpayers in Delmar, say they are also worried about what the potential redistricting could do to the value of their homes.
"If I have to sell my house and you take that Delmar school district label off, I'm in trouble, my property values are done," says Weed.
Due to a bi-state agreement with Delaware, Wicomico County students who go to Delmar Elementary can then go to Delmar Middle and High School. However, the students moved to other schools would lose that opportunity.
"Let's come up with some other ways to figure this out, don't redistrict our kids and take them out of the town that they were born in that they've come to and that they love."
Delmar parents are having their own meeting about the proposal on Wednesday at 6:00 PM in the Delmar Fire Department.
Wicomico County Public Schools will hold four information and input meetings on the proposals:
– Tuesday, February 10th at Salisbury Middle School at 7:00 PM
– Thursday, February 12th at Delmar Elementary at 7:00 PM
– Tuesday, February 17th at Pittsville Elementary and Middle at 7:00 PM
– Thursday, February 19th at Fruitland Intermediate at 7:00 PM