Five arrested, one wanted, for attempted carjacking in Milford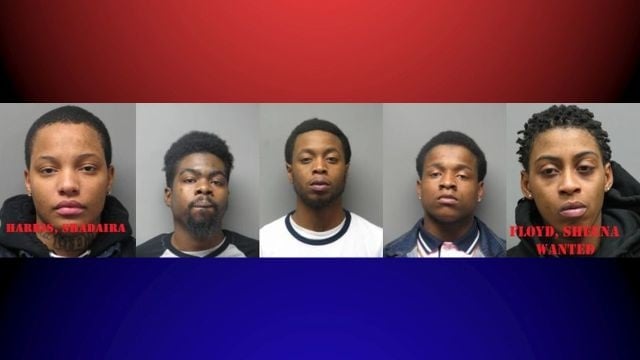 Five people have been arrested in connection to the attempted carjacking of a man in Milford, but Police say they are still looking for one more.
Milford Police say it all happened on January 28th, when a 28-year-old man was following a vehicle with 21-year-old Shadaira Harris, and 25-year-old Sheena Floyd, both of Ellendale. The victim told Police that two vehicles pulled over near S. Washington & SE 3rd Streets, after which Harris and Floyd then called 23-year-old Jamaal Harpe, 19-year-old Timothy Jarvis, 20-year-old Kareem Trammell, and 23-year-old Aubrey Jarvis. The four were apparently at a home on S. Washington Street, and quickly made their way to the two cars.
According to the report, Harpe, Trammell and both Jarvises walked up behind the 28-year-old's car, opened the doors, and got in. Police say once inside, the four started assaulting the victim, and taking his property, before trying to force him from the vehicle in an effort to take the car. The victim was apparently tried to drive off with the suspects inside, but ended up hitting a parked vehicle, and damaging private property. Police say at this point a Good Samaritan intervened, and all of the suspects fled. A Milford Police K-9 Officer was then reportedly able to track the suspects back to the S. Washington Street home.
An investigation into the incident led to the February 3rd arrests of Timothy Jarvis, Aubrey Jarvis, Jamaal Harpe, and Kareem Trammell. They were each charged with robbery 2nd degree, attempted car jacking, 2 counts of aggregated menacing, conspiracy 2nd degree, reckless endangering 2nd degree, offensive touching, and two counts of criminal mischief under $1,000. They are all now being held at Sussex Correctional Institute on bond.
Shadaira Harris was also arrested and charged with reckless endangering 2nd degree, offensive touching, conspiracy 2nd degree, and two counts of criminal mischief under $1,000. She was released on unsecured bond.
Police say they are still looking for Sheena Floyd. She is now wanted on similar charges. Anyone with information about Floyd's whereabouts is asked to contact Det. John Horsman or Det. Dwight Young at the Milford Police Department at 302-422-8081 or Crime Stoppers at 1-800-TIP-3333. Tips can also be sent through the Milford Police or Tip Submit websites.