Dover "Shoplifter Notification Program" proves success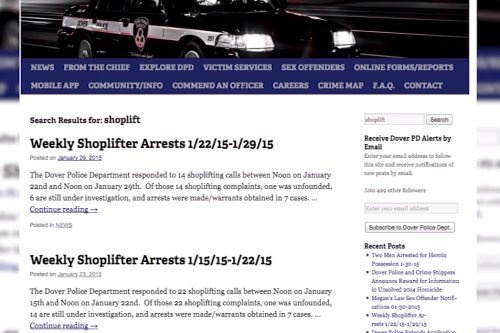 A local effort to reduce shoplifting is being viewed as a success by the Dover Police Department.
The agency claims they say they saw a nineteen percent drop in shoplifting crimes since the "Shoplifter Notification program" started back in August.
The police department posts the mugshots of offenders on their website and Facebook page, making it easier for local store owners to be aware of shoplifters in their area.
Prior to the launch of the program, those opposed to the idea alleged that the website violated civil rights. However, authorities say that is not the case.
Cpl. Mark Hoffman with the Dover Police Department says, "It's all public record what we are putting out. We also put a disclaimer which is not necessary but we
do it as a courtesy. The goal of the program is to keep our vendors and merchants informed of people who are committing crimes and stealing from their shops in an effort to protect their inventory."
For the first time since 2010, the city of Dover saw less than one thousand shoplifting calls.