UPDATE: Fatigue may have caused overturned propane truck in Linkwood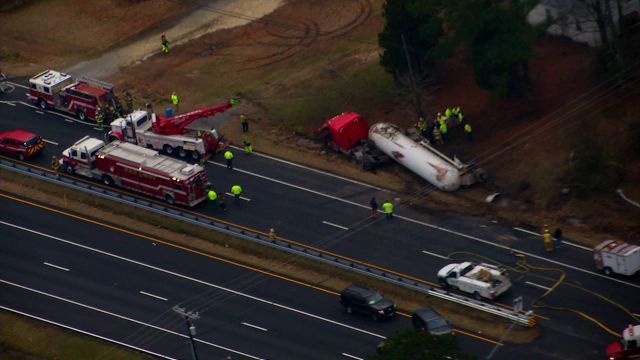 Maryland State Police shut down both sides of Route 50 and detoured drivers for hours on Wednesday, after an 18-wheeler propane truck overturned off the side of the road in Linkwood.
According to police, the incident happened around 5:30 AM, and they do not believe any other cars were involved. The driver of the truck walked away with just minor injuries, but the mess took at least 10 hours to clean up.
Police say the tank had to be emptied completely to prevent ground contamination and the risk of it becoming explosive if a spark ignited.
"At this time we don't know the cause of it, though once we do more of an investigation we'll find out," says Lieutenant Ryan Bricker, commander of the Easton Barrack.
Police say they are investigating the possibility of fatigue and that the driver may have fallen asleep.
"We're going to check the hours of service to the best of our ability, we are going to try to do the most complete inspection we can of the vehicle as far as maintenance and breaks inspection," says Senior Trooper Jason Lambert with Maryland State Police. "We're going to look at everything to see if it was a vehicle or driver violation."
Wednesday's crash is the second major crash involving a tractor-trailer on Route 50 in Maryland in less than two weeks.
The fatigue factor still has not been ruled out for the truck driver in a January 10th crash in Wye Mills, which took the lives of three adults, two children, and an unborn baby, all from Accomack County, Virginia.
Police say depending on what they find in their investigation, drivers can face fines of up to $1,010 per violation.
"The driver could also be pushed out of service depending on the violation," says Senior Trooper Lambert.
By law, drivers reportedly have to have 10 hours off before they can drive for 11 hours and be duty for 14 hours. With both crashes now on-going investigation, they are urging drivers to be vigilant.
"It's always concerning for the Commercial Vehicle Enforcement Division, but we're still out in force everyday trying to enforce the laws."
Anyone with any information about the January 10th crash in Wye Mills is asked to call the Centerville Barrack at 410-758-1101. To give information about the Linkwood crash, call 410-822-3101.