Morning Update: Snow to Impact Delmarva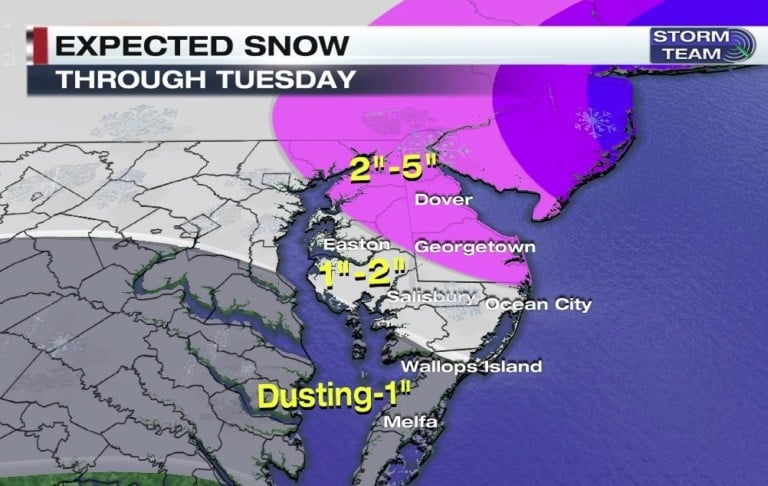 Snow is still forecasted to impact Delmarva late today and through parts of Tuesday, but the latest information continues to indicate that lighter amounts of snow will fall.
I wrote on Facebook yesterday that I was hesitant to forecast high snow amounts like other meteorologists were doing for the eastern shore. Not just because I wasn't confident, but because only one computer model was showing high amounts while almost every other model was showing an inch or so at best. It's tough to go against several models that show similar snow solutions no matter how good one model typically is. That one model (The European model), which is a very good model, is now even drier and is showing less snow this morning. This is what it is currently showing, a general 1″-3″ for Salisbury and higher amounts north. Just a day ago it was showing nearly a foot of snow in Salisbury.

Another thing, this type of system doesn't usually bring Delmarva heavy snows; climatology favors heavy snow to our north because the low pressure doesn't intensify enough until it reaches north of our latitude. All of those reasons factored in, 47ABC forecasted lower snow amounts than others, including what the National Weather Service (NWS) had in their forecast.
Up until this morning, the NWS was forecasting 4″-6″ of snow in Salisbury while 47ABC was forecasting 1″-2″ which is a big difference. Now the NWS and many other meteorologists have reduced totals to the 2″-3″ range. This is the Weather Prediction Centers current forecast below showing about 2 inches in Salisbury and heavier amounts north:
Let's take a look at the storm in a little detail: The rain will continue off an on today as an area of low pressure transfers its energy off the coast and continues to strengthen. Northern areas will see a rain and snow mix while Salisbury will see mainly rain today. Northern counties could see a dusting to an inch before the sun sets. Colder air will be pulled into the area tonight as the system intensifies. This will change the rain over to snow for everybody. Tonight into Tuesday morning will be the best chance to see accumulating snow for most of Delmarva with hazardous driving conditions. Lows tonight will fall into the upper 20s and lower 30s. Winter Weather Advisories have been issued for the entire area.
One thing the computer models may not be doing a good job handling is the back edge snow (deformation band) that may develop late tonight. It's exact strength and position will determine which areas see the higher snow amounts. One computer model shows this band reaching our area very early Tuesday, but the strongest part of the band is near Dover and areas north and east of there towards New Jersey and New York where Blizzard Warnings are in effect. See below, darker blue is heavier snow:
Snow showers will taper off midday Tuesday and eventually drop a general 1″-2″ across Delmarva with heavier amounts to the north. This is what the 47ABC Storm Team is thinking for totals. As I mentioned, the wildcard is the deformation band. IF the snow band can intensify just enough, then some of these totals may be higher, but for now this is the best bet for snow totals through Tuesday. We'll keep watching the storm for any possible changes all day. Have a great day and be sure to follow me on Twitter @danieljohnsonwx and on Facebook at @Meteorologist Daniel Johnson.