Local YMCA shows 47ABC how to trim holiday weight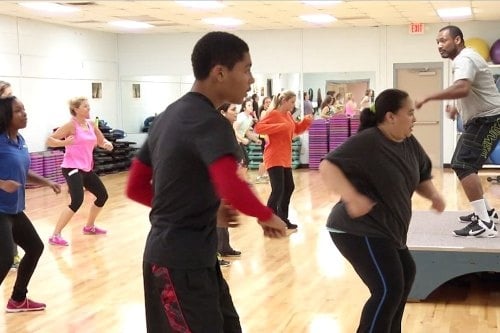 Weight loss,  it's one of the biggest new years resolutions; especially after all those holiday indulgences.
Surprisingly, the average American only gains about a pound during the holidays, the problem is, they don't lose it.
Trainers at the YMCA say they always see a surge in gym memberships following January first. 
However, they want people to stop focusing on weight and pay closer attention to health.
Amy Sorge, YMCA Wellness Director says, "Weight loss may come as kind of a side benefit to getting healthy, and that would be wonderful. Let's focus on health and what can we do to get moving. Your body was really meant to move."
That's what Sorge, had 47ABC's Jobina Fortson doing, moving. She showed Jobina a work out anyone can do, even in your own home.  She started with a warm up.
Sorge says, "Really the purpose of the warm up is to get the blood moving in the body get the heart rate up."
Sorge then went on to lunges, over to the wall for squats, and by the time they reached the planks, Jobina was really feeling the burn.   
Sorge says, "We all want to have the quickest results the fastest we can get them in, but the fact is it didn't take us a week to put on the weight."
This means set reasonable goals when trying to get in shape. Sorge says people join the gym in January, and 6 months later they're gone.
Trainers believe another reason for this, is that people aren't having fun, which is why they recommend low impact workouts for newbies like zumba.
Chris Pagan, a Zumba Instructor at the YMCA says, "Zumba's for everybody, because you do what you can. Not everyone can do the highest, I can't even do the highest levels at this point."
47ABC's Jobina Fortson decided to check it out Zumba for herself, and she admitted it was a lot of fun…"You can't beat being able to break it down, while burning fat. A good workout for both the body and soul."