Investigators respond to Queen Anne's crash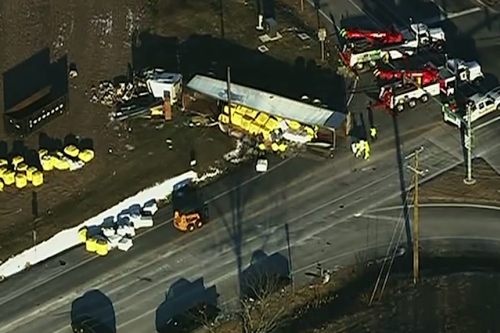 Three adults, two children, and an unborn baby, all members of a Virginia family
were killed early Saturday morning when their car and a tractor trailer collided on Route 50 in Queen Anne's County.
The victims were identified as Regina M. Ayres, 24, of Greenbush, Va; Zerissa Ayres, 30, and her unborn child, of Greenbush, Va., (Regina's sister); Jordan Ayres, 7, of Greenbush, Va., (Regina's daughter);Travis M. Straton, 25, of Onancock, Va., (Regina's boyfriend); Jonathan Ayres, two months, of Greenbush, Va. (son of Regina and Travis Stratton)
Greg Shipley, director of media and communications at Maryland State Police says, "Unfortunately the family they we going to visit in Baltimore called the barrack and said we have some relatives who are overdue, do you have any traffic crashes."
Zarissa Ayres, one of the adults in the car, had posted a flyer on Facebook which said the family was traveling to Baltimore to celebrate her baby shower that was scheduled for Saturday afternoon.
Zarissa was the only one from the car who wasn't pronounced dead at the scene. She was transported to Easton Memorial hospital following the crash- but she and her unborn child were later pronounced dead.
Authorities say the car carrying the Ayres family was traveling westbound when they were impacted by the tractor trailer traveling southbound. Apparently, the car was pushed across the road and the tractor trailed rolled on top of it before coming to a stop.
Shipley says, "There was significant damage to the truck tractor and also to the trailer, the top came off the trailer, the trailer was mangled."
The driver of the tractor trailer, 28- year- old Yvenet Mayette of Wilmington Delaware, was carrying a 44,000 pound load of polyfiber, and was airlifted to Shock Trauma in Baltimore. He's being treated there for injuries and is the only survivor from the crash.
Shipley goes on, "It's not appropriate to speculate as to whether anyone might have had a chance. You know it's an intersection involving a tractor trailer and a vehicle, and each situation is different."
Maryland State Police say they don't believe alcohol was factor, and until the investigation is completed, and they won't know who was at fault
Maryland State Police predicts it will take several weeks to complete the investigation.
Due to the involvement of the tractor-trailer, the investigation is being led by MSP's Commercial Vehicle Enforcement Division.