Hometown hero Fernando Guerrero gives back to Salisbury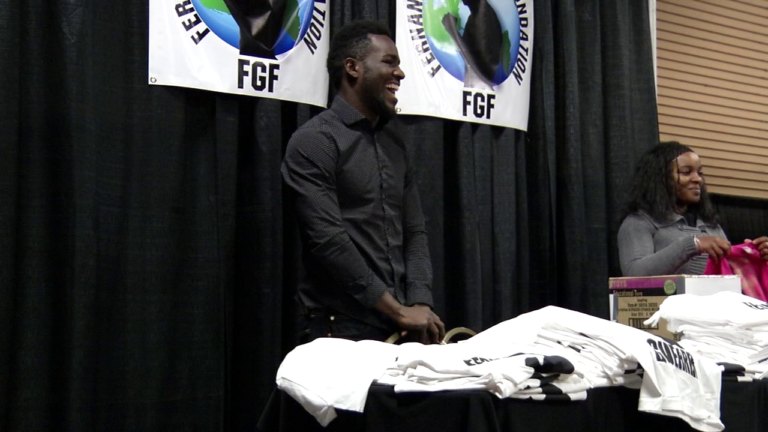 Middle weight boxer Fernando Guerrero is a winner here in Salisbury.
Not just because he has never lost a local fight, but also because of the impact he makes on the local community with his charity "The Fernando Guerrero Foundation".
"The fact that he is able to come back remember us, and want to give back to us is amazing." Said Monique Snyder, who represented the Wicomico County Public Library.
Guerrero expressed his willingness and excitement about his charity and his event saying, " I've always been here and I've always wanted to do this." and "Boxing is my job, giving is what I love."
Guerrero admits the local community made him what he is today, and his 2-day event provides local children and families with everything from shoes to educational toys.
In addition to providing children with clothes and toys, Guerrero made an investment in the local community by donating thousands of books to both the Wicomico County Public Library and the United Way.
"It is so important to read from a young age and a lot of children in our community are unable to afford books. " Added Snyder.
However, coming back home and giving is only one of the things on Guerrero's list.
With a record of 26 and 3, the past few years saw some highs and lows in his boxing career.
He lost two title fights, one in April 2013, another in May 2014.
But Fernando, at 28 years old, tells 47 ABC he is in the prime of his boxing career, and he's got big plans.
On this, he remained a bit mysterious.
But he did shed some light on looking at the Civic Center as a possible location for an upcoming bout.
Guerrero said, "I'm coming in with a foundation, as a promoter, and we're gonna do it." and "I've never had a more electrifying crowd than in Salisbury, and I've never lost a fight, not even close in Salisbury."
Which is why he'll continue to fight for his crowd here in Salisbury, and the future of their kids.
You can find more information on Salisbury native Fernando Guerrero and his foundation here.