First day of legislative session brings many new faces to Annapolis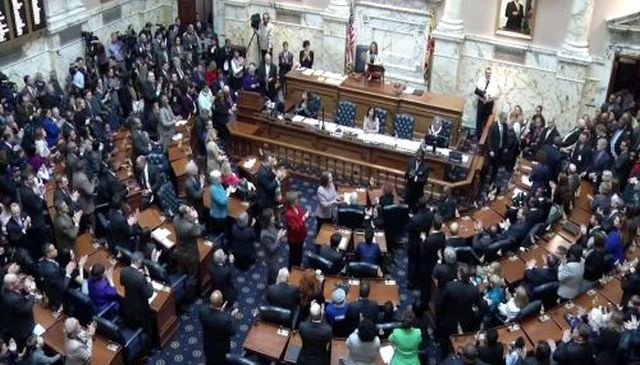 MARYLAND – It's the first day of Maryland's legislative session.
For the Eastern Shore, it brings a very new representation with high hopes and major aspirations.
"I'm not filling shoes I brought my own," says Delegate Carl Anderton (R-38B). "I'm really excited about the opportunity that lies ahead of us."
"I'm going to be the voice for the eastern shore," says Delegate Sheree Sample-Hughes (D-37A).
However, the next 90 days will be far from easy. One of the biggest hurdles and the first topic on most lawmakers' agenda is the budget, which includes a grappling $750 million shortfall.
Lawmakers say the big challenge is keeping the impact of inevitable cuts to a minimum.
"The one funding that we have to have, is for education," says Senator Jim Mathias (D-38).
"Looking at some of the things that may have to be cut and some of the tough decisions to be made, that's concerning," says Delegate Sample-Hughes.
Senator Addie Eckhardt (R-37) says she is back on the Budget and Tax Committee and is confident in their approach.
"We really drill down to do what we need to do to get adequate revenues, or reductions, or rearrangement of priorities, that's what's going to set the stage for business expansion in Maryland," she says. "Making sure that Maryland is welcome and open for business because business will keep the engine running in this economy."
They argue a big factor of that includes keeping the agriculture industry alive on the Eastern Shore. Over the past year, farmers have expressed serious concerns over a potential new regulation, the Phosphorus Management Tool. They argue it could prohibit using chicken manure as fertilizer, which could have a devastating impact.
Governor-Elect Larry Hogan has openly voiced his opposition about the proposal, and shore lawmakers are making it a top priority if it comes back through legislation.
"It may not be implemented, and then it comes back through legislation," says Delegate Anderton. "If it takes the legislative route, it will come through the committee that I'm very lucky to sit on."
Other potential legislation includes a measure that would require police to wear body cameras, along with a possible expansion of last year's measure to decriminalize possession of small amounts of marijuana.
Lawmakers say before getting to those issues, the budget takes priority, and how the money trickles to the Eastern Shore depends on the shore's voices.
Freshman Delegate Carl Anderton believes counties have been short-changed millions of dollars in the past when it comes to roadways. In addition, with big projects on the line, including a potential change in school start dates, to wind energy in Somerset County, lawmakers want to make sure the shore is not left behind.
"We're going to work hard together, we're going to make new friends," says Senator Mathias. "I'm confident that well be able to strengthen our voice by strengthening our relationships."