Delmar man sentenced for shooting into officers' homes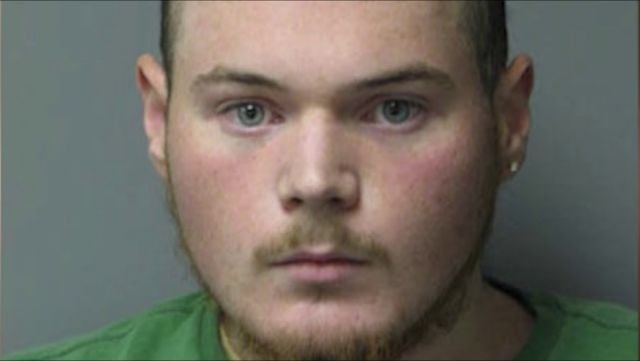 Delmar man Orrin Joudrey, 22, learned on Friday that once he gets out of prison in Delaware, he will have 18 more years behind bars in Maryland.
Joudrey was arrested in January 2013 after firing gunshots at the houses of three police officers in Wicomico County between December 27 and December 30. His childhood friend David Watson, 26, allegedly also opened fire. The pair shot at a Delaware officer's house that same week before. Watson was sentenced to a staggering 106 years in prison for that incident, while Joudrey was sentenced to 11 years.
It's a future Joudrey's mother, Diane Joudrey, and their family never thought he would have to face.
"Orrin is a great kid, never gave us any problems. Ever. Anyone you talk to will say the same thing, over and over again." Says Joudrey. "Orrin's only goal since the time he was two, was he wanted to be a veteran…and that's all gone now."
Of the three Maryland shootings, Joudrey will serve ten years for pulling the trigger on the house of a Worcester County police officer who lives in Wicomico County. Eight years will be served for shooting into the home of a Wicomico County sheriff's deputy, who said he — along with his wife and two children — were home at the time. In the third incident, the pair shot into the house of a Somerset County police officer; however, no one was home at the time.  For that incident, Joudrey will serve three years concurrently, amounting to 18 years total in Maryland.
The state initially recommended 23 years.
When asked why he partook in the incidents given his apparent wish to become a US veteran one day, Journey did not answer in court on Friday. According to his mother, she did not have an idea why.
"I have none…I really have none." She says.
State's attorney Ella Disharoon says Joudrey will be eligible for parole in Maryland after serving nine years. His mother told us she "still loves David" and as for her own son, she says her only wishes are that he remain safe and that he will have a second chance.
"He's already taken from this that, just don't trust your friends. Don't fall into that category. Don't fall into that category and don't be prey." Explains Joudrey.
Joudrey's mother says the family will seek an appeal at a later date.
David Watson was found incompetent to stand trial for the Maryland shootings this past December. He is scheduled to be appear in a competency review hearing in Wicomico County on June 12.