Cal Ripken Jr. surprises Pocomoke HS with unannounced visit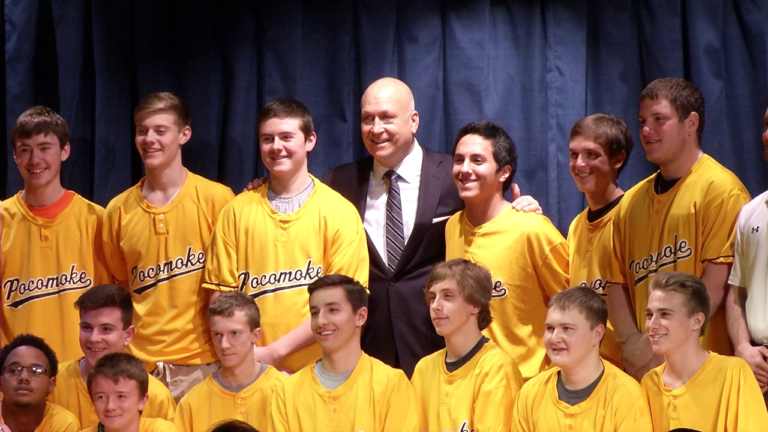 The proper use of social media with an ambitious attitude.
It may not land you in the Hall of Fame, however as Pocomoke high school student's learned today, it may land you a Hall of Famer.
Students sat in giddy anticipation at Pocomoke High School Wednesday, awaiting the arrival of an unannounced guest.
After moments of suspense, baseball's "Ironman", Cal Ripken Jr. entered the Pocomoke High School auditorium.
Junior Paige Hughes was in shock. She described the entire event afterwards as nothing short of amazing. "This was the most amazing experience I've ever had to experience here." said Hughes, who is studying journalism at PHS.
It was indeed amazing, yet it was not a total surprise. PHS students have been trying to get Ripken to PHS for months, using an extensive social media campaign.
"Social media can be used for positive reasons." said Principal Annette Wallace. She added "this example they used it in a positive way and in an appropriate way, look what happened."
It started in September, when the faculty challenged students to use social media to get Ripken to come speak at graduation in May.
Ripken will be in the broadcast booth that day so students doubled down their efforts using the hash tag #wewantcal.
They flooded Twitter, Facebook, and Instagram trying to get the Hall of Famer's attention.
They certainly did.
"This was a campaign that spoke to me, that made me feel really good, I was impressed by it when I first heard about it, and I was trying to figure out how can I make that work." said Ripken.
Principal Annette Wallace says Ripken is exactly what she looks for in a commencement speaker, down-to-earth and hard-working.
Ripken enjoyed sharing his wealth of knowledge with the students, he said "Sometimes it's cool to be able to share your experiences and maybe help out." and "One of the things that I thought might stick with them is sort of the concept of change. Many times we look at change as a negative thing."
This, a message the students can learn from, even before they graduate.