2014: Warmest Year Ever Recorded on Earth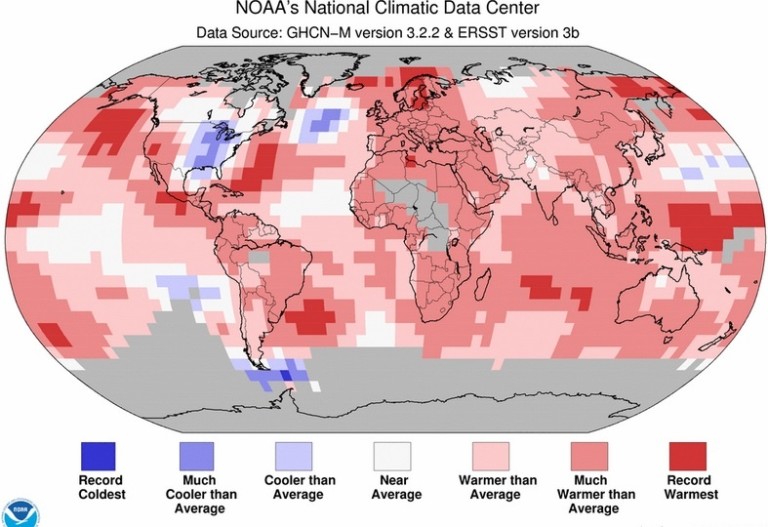 Now that we are in a new year, we can start to look back and review the weather and climate of both the United States and the earth as a whole in 2014.
The National Oceanic Atmospheric Administration (NOAA) announced that 2014 was the warmest year on record. The earth's temperature was 1.03 degrees Fahrenheit above average. To calculate the exact number as to how warm we were, experts look at a 30 year average from 1961-1990. This makes it the 38th consecutive year where global temperatures were above average, according to the World Meteorological Organization.
In 2014, the Pacific, the polar and subtropical north Atlantic, parts of the south Atlantic, and the Indian Ocean all experienced the warmest temperatures ever recorded. These water temperatures helped contribute to the earth's above average temperatures.
While the earth as a whole averaged well above average, the United States only averaged 0.5 degrees Fahrenheit above average, according to NOAA. It was the 34th warmest year on record for the U.S and it was warmer than 2013. The United States was the exception in 2014 with a lack of extreme weather changes, while the rest of the globe dealt with extreme weather, including extreme heat. It's hard to believe the earth was so warm because Delmarva itself and the east coast pretty much had a cool 2014 with record cold during last winter. But experts don't average temperatures in just one location, they look at the entire earth.
Some people still don't believe the report. It has global warming and climate change skeptics in the United States asking how is this possible if the U.S wasn't too warm? The answer is simple, the earth is huge and this report averaged all the temperatures across the earth. It determined that the earth as a whole warmed dramatically in 2014 and reached the warmest ever recorded, despite the cool weather that the United States experienced at times, especially last winter.