V.S.C.O.A. PAWS Program helps Veterans in need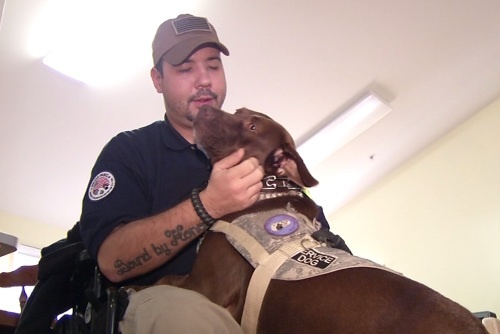 The Veterans Support Center of America PAWS assistance dogs training program is finally up and running, thanks to their lead pup, Sophie.  
Chet Swift, a master dog trainer says "Sophie, she sort of shows the way to a lot of dogs."
Jason Grey, the director of PAWS program, as well as a military veteran says, "The problem is the waiting list for service dogs can be 18 months to 2 years for people to get them. I went and got her from the humane society and trained her for my own needs after I read up that it was a possibility."
Jason Grey is the director of the program. He also suffers from Post Traumatic Stress Disorder and a head injury,  from serving over seas. Sophie's trained to jump on Jason, lick his hand, and even turn on lights if he's having a nightmare or flashback. Sophie also learned how to navigate a hospital after he suffered a seizure, and never left his side.
Chris Hardy, a volunteer U.S. dog trainer says, "People think oh I'm missing limb who's going to pick me up?  They don't think, oh I'm having a flashback, I dropped my leash, who's going to get me out of this? Who's going to pull me back to reality?"
The V.S.C.O.A. PAWS program has successfully trained about five dogs and have paired them with a Vet in need, plus the animals are all from local humane societies.
The program is run completely by volunteers and doesn't focus on Veteran amputees, but those with mental and emotional disabilities.
Dr. Jay Siegman, a psychotherapist that works with Veterans at the program says,"If you have a high amount of cortisol in your blood stream, it's stress hormone. Petting an animal for whatever reason makes that stress hormone come out of your blood very quickly."
However, petting is only meant for the owner. Trainers say when people see an assistance dog out, they should ask the owner for permission first because the dogs are working.