UPDATE: Identity of Camden-Wyoming train victim released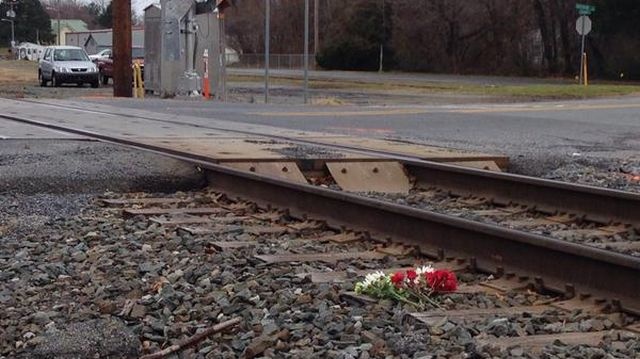 Police have released the identity of a man who apparently attempted to climb through a stopped train in Camden-Wyoming over the weekend.
Delaware State Police have identified the 37-year-old man as Phillip Hartly, Jr., of Dover.
While the train is known as the "character of the town" in Wyoming, for some life-long residents, the tracks will constantly be a reminder of his horrifying death.
"It's a very helpless feeling to be in to watch something like that happen and not be able to help," says a Camden woman who witnessed the incident with her fiancé, but neither wanted to be identified. "It's just sad, I still don't know his name, I don't know anything about him, and yet I watched him lose his life."
Police say round 5:00 PM on Sunday, Hartly was stopped at the railroad crossing signal on Southern Boulevard in Camden, waiting for a 128-car Norfolk Southern cargo train to pass. When the train stopped, it blocked the roadway, and Hartly reportedly decided to crawl with his bike under the stopped train. Police say as he did so, the train began to move in a southbound direction and dragged him with it. When it stopped again, and reversed directions traveling northbound, the male was reportedly still trapped underneath.
The witnesses laid down flowers in Hartly's remembrance on Monday. The Camden woman says she and her fiancé were on their way home from Christmas shopping when they saw a man trying to pull someone from underneath the train. At first, she did not realize it was a person.
"My fiancé attempted to help save a man with another man, obviously it was too late."
Her fiancé says he watched the trains "go back and forth over the guy."
"I just wanted to let him know at least we tried and we were there for him and we tried to save him," he said to 47 ABC in a very emotional interview.
Residents say incidents involving trains are very unusual in the area. However, as police continue to investigate the details of the incident, they hope it will keep others from ever taking a similar risk.
"Somebody had to lose their life over just a really silly mistake."
Spokesman for Delaware State Police, Corporal Jeffrey Hale, says they do not have a specific reason why this particular train went forward and then changed direction, but trains often do this for a variety of reasons including connecting and disconnecting cars.
47 ABC also reached out to officials at Norfolk Southern Railroad, but they turned down our request for comment.