Protestors hold demonstration at Salisbury Christmas parade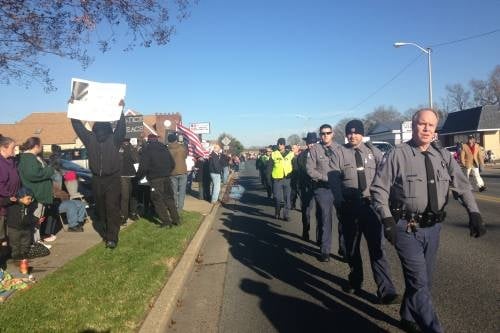 SALISBURY, Md.- The 68th
annual Salisbury Christmas Parade took an abrupt and near violent turn on East
Main Street In Salisbury.
It started out peacefully
participants holding picket signs shouting, "hands up don't shoot," and "I am Michael
Brown."
Folks were clearly upset
over the decisions not to indict the officers who killed Eric Garner and
Michael Brown. Joined by civil rights activists from Baltimore,
protestors
marched up to the front of the parade procession attempting to link arms
across
the street blocking the way of the parade in an effort to share their
message.  However, they were confronted by law enforcement,
and chaos .
Police say 22- year- old Salisbury
resident Brandon Lamont Moore was arrested and charged with second degree
assault, disorderly conduct, disturbing the peace, failure to obey a lawful
order, and resisting arrest. Apparently, investigators found a blow torch in
his possession.
40- year- old James Walker
faces a charge of intent to interfere with an arrest, along with four other
charges.  
Police say 37- year- old
James Kelly Fleming was interfering with the arrest of another. He also
suffered injuries from the police brawl and was sent to the emergency room.   
Steven Bingham, a protestor at the parade says, "There's a lot of problems going on in our society. You know its not happening only miles and miles away, it speaks over here. It's not just Ferguson, its not just New York, it's not just California. It's just ridiculous and the whole city needs to hear about it, it's just something that's swept under the rug all the time."
47 ABC spoke with
protestors prior to and after the chaos with law enforcement. They say their
intent was simply to spread their message and was never to disturb the parade,
since a number of the protesters themselves had their children with them.