Ocean Effect Snow Showers Fall on Parts of Delmarva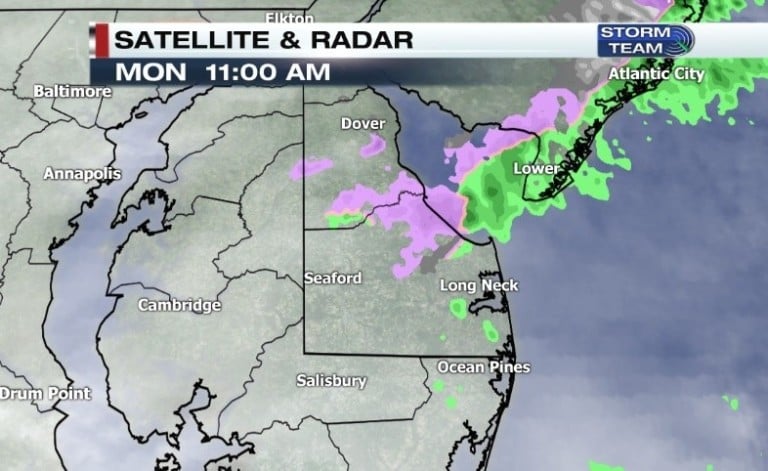 A rare and interesting event occurred this morning for northern parts of the peninsula. Georgetown reported light snow this morning between the hours of 8am-9am. The snow fell in a few other spots as well, but most of the region was dry, other than some patchy drizzle. The reason it was so rare was because of how the snow formed.
This 'event' is called ocean effect snow. Remember parts of New York last month when they received up to 7 feet of snow in some areas, specifically areas just south of Buffalo? That was lake effect snow, a similar type of event. Due to Delmarva's location (close to both the Atlantic and Chesapeake Bay), we are prone to seeing different types of weather and hard to predict types as well. This was one of those cases.
Ocean effect snow is caused when a cold air mass moves over relatively warm waters. This causes the air to rise and condense into moisture and then fall from the sky. If the temperatures are cold enough then the moisture will be snow. The wind direction this morning was just right and the difference in temperatures between the land and water created enough instability to form ocean effect snow showers. The National Weather Service in Mount Holly, NJ confirmed the snow in Georgetown and stated that they officially received a trace of snow. Salisbury's airport actually recorded a trace of snow as well.
These ocean effect events are almost always weaker than the lake effect events that Pennsylvania and New York often see, so these showers are quick movers and are mostly very light in nature. Some drizzle and isolated flurries are possible for the rest of the day before heavy rain arrives tonight and Tuesday.
-Daniel