Kurt Busch testifies in second day of hearing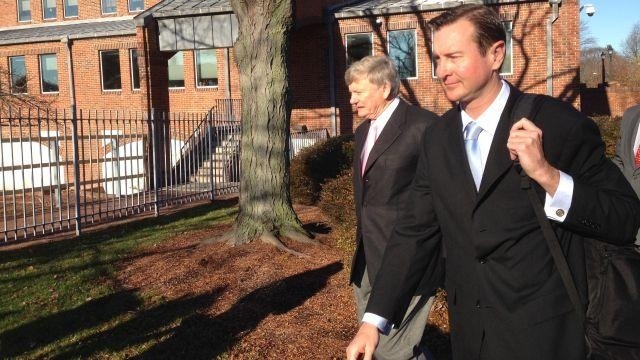 DOVER, Del. – It was day two in Kent County Family Court for arguments over a court order to keep NASCAR driver Kurt Busch away from his ex-girlfriend, Patricia Driscoll.
For the first time since Dover Police launched their investigation, Busch gave his side of the story.
"Bottom line is this man simply didn't do it," says Rusty Hardin, Busch's attorney.
Busch testified that he ended his more than three-year relationship on September 21st after a major argument, and the two reportedly did not speak again until the 26th.
The court displayed text messages between Driscoll and Busch later that evening. Driscoll reportedly initiated the conversation, asking Busch if he was OK. He testified that he replied, saying that he was "lying on the floor crying" after watching a Brad Pitt movie, 7 Years in Tribet. Busch testified that it was because he was watching a very moving movie that was relevant to his life and he had a reflective and emotional moment.
However, Driscoll says she found it concerning enough for her and her 9-year-old son to drive from Maryland to his motor home in Dover.
Busch testified that Driscoll came in unannounced and asked Busch to explain to her son, Houston, why their relationship was over. He says he walked Houston to the front of the trailer and sat him down to watch television, then closed a door so him and Driscoll could privately talk. She reportedly went back to get Houston, and Busch did the same thing again. When they were behind closed doors for the second time, Busch says he cupped his hands on her cheeks, telling her to leave for the fifth time.
While on the stand, Busch never denied the claims about Driscoll choking her and slamming her head three times, but that could be because he was never directly asked.
"She just did not want to hear that denial," says Hardin. "People don't tend to believe the person that keeps volunteering unresponsive information to help them."
Two other witnesses were also brought to the stand on Wednesday.
Busch's driver, Mike Donscheff, testified that he enjoyed working for him, and that Busch was always cordial, and only had a temper if he had a bad race. Donscheff, who was also in touch with Driscoll often, says he was contacted by her before and after going to Busch's motor home on September 26th.
He says he believed Driscoll's story of the assault, but he also "believes everything" people tell him. He also testified about two other stories that Driscoll previously told him that he felt were "far-fetched."
Driscoll's neighbor, who says she was a family friend of both Busch and Driscoll, testified that she never witnessed anything physical between the two, but claimed they had a lot of verbal arguments. Some of that, she says, she witnessed, but a lot of it was also told from Driscoll. She also testified that she was with Driscoll the night of the incident, saw that her neck was very red, and that she was shocked and extremely upset.
Hardin was the only person from court who agreed to an interview after Wednesday's hearing, saying he believes that Driscoll has a clear motive.
"I think it's going to be very clear when this is all done that she did not want that relationship to be over, and once she found that out, she set out on a pattern to convince others that he was an abuser and to convince others that she was the victim," says Hardin. "She set out on a pattern to destroy him."
Busch only gave part of his testimony because his attorney wanted to call other witnesses who came in from out of town to testify. The court expects to hear from more of those witnesses, and Busch, when the hearing resumes on January 12th.