The Brightside: SU Robotics Lab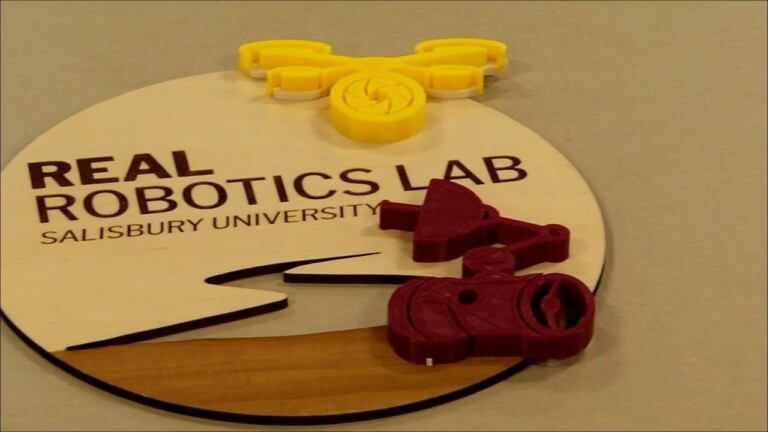 SALISBURY, Md. – Salisbury University is creating a space to enhance STEM education opportunities for students. "This is a huge expansion from what we had before, I'm grateful for all of this and it's made us work so much more efficiently," says a senior at SU, Jordan Long.
Once in an office space, students interested in robotics had to make do with a small area, limiting their capabilities. However, the Henson School of Science and Technology opened the campus's first functioning robotics lab through grant funding, which is creating endless possibilities. "We set up a big field for testing robots, then we have a lot of tools, we have 3D printers and we have any other tools that we need for building robots," says Dr. Guilia Franchi, Assistant Professor of computer science tells us, many of her students wanted to try new projects and dive deeper into robotics concepts; some of which needed this robotics arena. She adds, "Basically, the robots can navigate around, and you can test for a dormitory for sensor navigation obstacle avoidance and stuff like that."
Since SU doesn't have an engineering program, the robotics lab is open to anyone interested in the field, such as students like Long who is an information system major, or Joseph Sanchez, a data science major. "I'm interested in robotics in general, there's just so much opportunity in a lot of different fields, I'm interested in medical applications of robotics," says Sanchez. Long adds, "It's a learning experience for all of us together, we're learning how to not only work with each other but manage the lab, understand how we can have robotics competition, how we can all work together, how we can set up, how we can get and reserve spaces."
Sanchez and Long, along with other students have worked together to build these functional robots which give them some hands-on experience to expand their horizons. "They get to bring all of these different perspectives into building the robot and the design process and it's really interesting to see what they come up with," says Sanchez. Long adds, "I've never actually had a chance to do that before so it was almost like something surreal, I thought I finally get to do it."
The team's ability expands beyond the university even inviting high school students interested in robotics to use the lab for projects, sharing ideas, as well as participating in robotics competitions. "I think one of the big things they're learning here is how to manage a project starting from the idea and arriving at the product and then being able to present the product to the other students or the class," says Dr. Franchi.
All these projects and efforts are setting the stage for this growing world of technology. Sanchez tells us, "There's a lot of room to grow because we just got this new lab, I'm excited to see the future research that students are doing." Meanwhile Long says, "It gives me that opportunity to explore something new and even consider a passion before I've done this, this isn't something I even thought I could do, so from this, I'm thinking I can maybe do it in the future."
Dr. Franchi also tells us she hopes to expand the program for graduate students and hopes to work with other universities to give students opportunities like this.
To find out more information about the robotics lab visit the Salisbury University website.