The Brightside: Shore Made Artisan Collective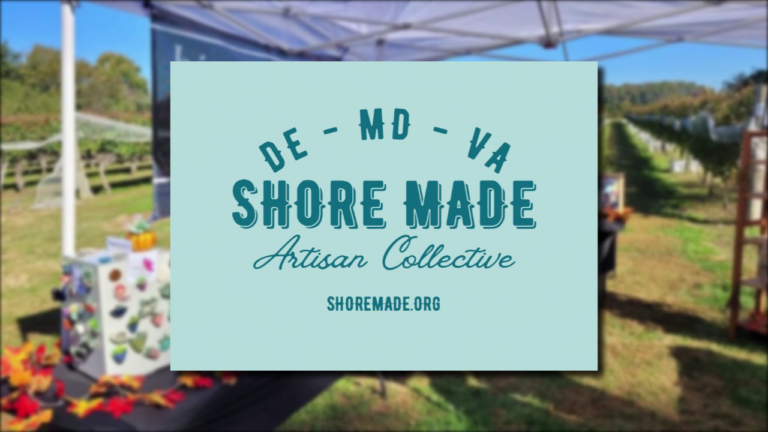 DELMARVA – A community and support group for local artisans to make, create, and grow is continuing to flourish right here on Delmarva. "We put our blood sweat and tears into our products and we want the world to like them," says Cyndi Funkhouser, a local artist and the founder of Shore Made Artisan Collective.
Shore Made Artisan Collective is a group that connects local artists with one common goal; sharing their eastern shore products with the community. "For the local artisan market, I wanted to help people like me figure out how to best market themselves locally," says Funkhouser.
Funkhouser, like many during the pandemic, found a hobby to occupy her time during quarantine; sewing, which she says is a skill that quickly developed. Her friends and family saw she had a niche for creating unique bags. "And that morphed into me starting my own small business, I make handbags, shoulder bags, tote bags, all kinds of bags and accessories."
She took her small business to local artisan shows and markets, building her business from the ground up. Through her business, she met like-minded people with a desire to create. So Funkhouser formed the Shore Made Artisan Collective. "People could join the group and use her experiences navigating through that to kind of get themselves into the local scene and get themselves seen," she tells 47 ABC.
With the help of her co-coordinator Amy Rhodes, they created a group through Facebook which now has over 400 group members, artisans, and consumers alike. "We are also happy to be able to promote several artisans' work." Funkhouser adds, "We have folks that turn oysters into ornaments, we have potters, photographers, crocheters, knitters, and bakers."
Funkhouser like many of the other artisans spends hours on end creating their Shore Made items. "I pride myself in artistic expression at the end of the day, in addition to creating something functional and helpful to the end user," she tells us.
All this, while combining their efforts to host artisan markets, and work with young and seasoned artisans to generate more business. "I've personally gone through what they've been through and they know what I've been through." Funkhouser adds, "But to now have a forum, of like-minded people to lean on and collaborate with."
The growth of their group is something Funkhouser says she can only hope continues with their presence in the artisan community. "We want to see them flourish and we want to see their name get out there so don't be afraid trust in your talent."
Shore Made Artisan's Collective will be hosting their second artisan market called the spring fling market, and it will be held on Saturday, April 1st at the Crown Sports Center in Fruitland, Maryland. Artisans participating will encounter no costs for a vendor space. The event will also be a fundraiser for Women Supporting Women of Salisbury and the Humane Society of Wicomico County.
More details on the event and the group can be found by visiting their website or Facebook page.