The Brightside: Light Of Literacy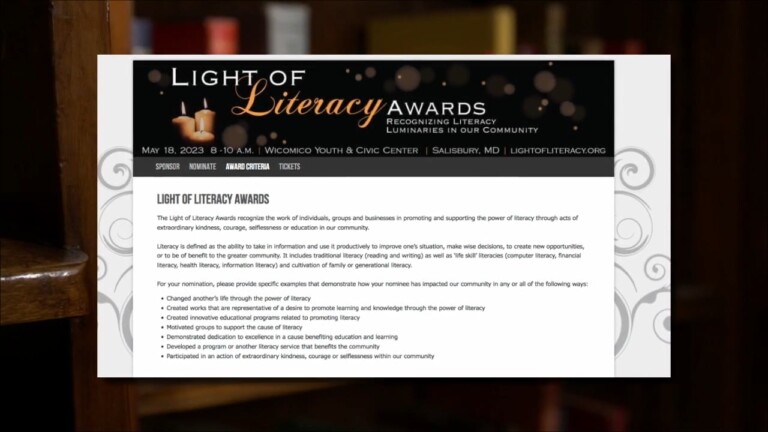 WICOMICO Co., Md. – Literacy, is a concept many of us may take for granted. However, for those who may not have that luxury, there are those in the community that dedicate part of their life to helping everyone achieve a level of literacy, and their efforts are being honored.
"There's so much good happening in our community but a lot of the times those people are not put in the limelight and we wanted people to be inspired by their efforts," says Farah Yahya, Chairman, of Friends Of The Library Committee.
For the 9th year, the Friends of the Library committee teams up with the Wicomico Public Library for the 'Light of Literacy,' awards, which recognizes the work of those in the community promoting and supporting the power of literacy through acts of kindness, courage, selflessness, or education. "We believe it's an important and powerful tool for success and also for a rich and happy life to be able to have those basic literacy skills to learn and to grow and to be a full person," says Library Director Seth Hershberger. Yahya adds, "Seeing how they use their knowledge and their wisdom to guide people in the right direction."
We're told years ago, the library wanted to partner with different agencies in the community to strengthen literacy in the community, beyond just learning to read literature. "Literacy is not only education, but it's also digital literacy, health literacy, it's financial literacy," says Yahya. She adds, "We just assume that we are so blessed that we have education, that we have shelter but we have so many Americans so many Salisbury natives who need help."
Meanwhile. a previous winner of a "Light of Literacy' award, Amber Green, Executive Director of the Fenix Youth Project, we're told exemplified that mission. "Those working with at-risk youth finding them shelter, finding them homes, making sure to get food three times a day," says Yahya. Green adds, "I think it's so important for communities to see that it takes a village component not so much as just community members but different community agencies."
The Fenix Youth Project started as a poetry team, to allow youth to use literature and their writing as a way to make a change in the community. However, Green says, it's becoming so much more than that. "I think you have to teach them how to use those tools to better their community, it's not just a tech you have to speak just to move to the next grade."
After Green's work with the library to assist her mission, her award reiterated just how impactful her organization's efforts are. "During a time where there are people who feel as though they are not seen, or they're not heard," says Green.
Now every year, the library, along with community partners is looking for the next Amber Green, the next Fenix Youth Project, to further their goal of making sure every member of the community thrives. "I think it's an important moment for the community to pause and honor those people that are doing important work in the community," says Hershberger. Yahya adds, "They don't have to be CEO of a company, it could be anybody, it could be your mailman, it could be your teacher, it could be a doctor anybody, your pharmacist. 08 Anybody who you think is making a difference, please nominate them."
If you or someone you know is doing work in the community when it comes to helping with literacy, please visit the Light of Literacy website for more information. You can also visit the Wicomico Public Library to fill out a form in person, nominations are open until March 14th.
The award ceremony is open to the public and will be held on May 18th from 8 to 10 a.m. at the Wicomico Civic Center, tickets sales will begin March 1st.