The Brightside: Lewes Caboose Restoration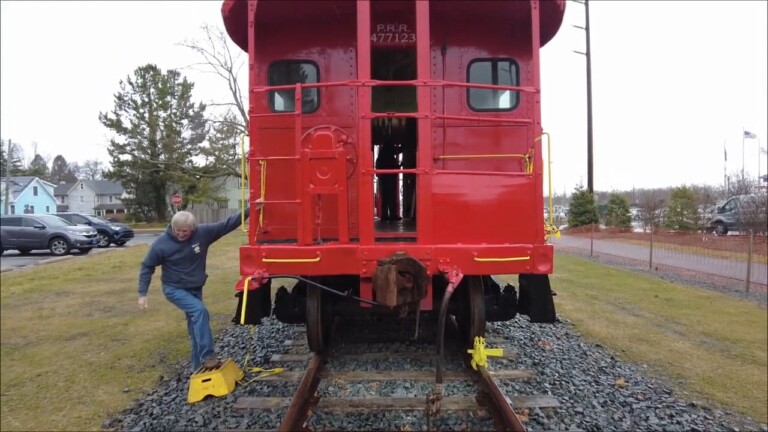 LEWES, Del. –  Restoration efforts are underway in Lewes, as volunteers embark on a journey to revive, and honor a piece of Delaware's history. A mission that continues to be a top priority for the Lewes Junction Railroad and Bridge Association (LJRRBA). "It's a love of mine to preserve it, it's a historical piece of equipment, and its story needs to be told and that's what we're going to do," says David Ludlow, a member of the Board Of Directors for LJRRBA.
The Lewes Junction Railroad And Bridge Association is a non-profit organization that was created by like-minded people with one mission, restoring and preserving Delaware's history, its railroad history that is. Leaders along with volunteers tell us, they are doing just that. "We're looking for volunteers who can help us do this kind of work, it's really interesting work," says Randy Voith, President of the LJRRBA. "There's woodworking in here, there's metal work in here, there are cushions that need to be done there's a stove that we need to get working."
A few years ago, the group formed to preserve the historic railroad bridge which was going to be scrapped. However, due to their efforts, they saved it and it's now on display to showcase a piece of the first state's history. However, their work is far from over after a recent decision to revitalize a caboose from the Pennsylvania railroad has volunteers' work cut out for them. "So it was built in February of 1917, it's a steel caboose and it's called an N5, says Ludlow. A volunteer and Lewes resident, Jerry Virden adds, "I was in here grinding covered up with dust and everything like that and then it started on the painting."
Restoration started back in March of 2022, between cleaning, repainting, scraping, and replacing the caboose that almost resembles what it would have looked like back when it was built. The restoration efforts, we're told, are already capturing the attention of residents and tourists. "They all love it, also that we've taken our time to preserve a piece of history so that children and cyclists and pedestrians can see it and that's why we're doing it," says Ludlow.
Volunteers alike tell 47 ABC, they all have a personal stake in these restoration efforts. Volunteers like Michael Nowicki, who says he's had a love for trains since he was a child. "I've just been really happy to be with a lot of people who have been friendly and sociable and have huge compassion for the history of the railroad."
One volunteer even dived into his history to reveal just how monumental these efforts are to him, by showing us where exactly he grew up, and the deeds to the land where the caboose now sits next. "It means more to me because I grew up on this property over here and I got the deeds, my grandfather bought it in 1908," says Virden. He adds, "This is the previous owner, this is David Russel 1881, and this is my grandfather who bought it from the estate." He goes on to say, "I just enjoy helping and I keep learning more and more and piecing the parts together that I remember and people talking about when I grew up here."
While volunteers chug along, and the caboose is almost complete, we're told they have two major goals to accomplish through these efforts. The first is representing the town and its history. "To bring it full circle and have it in a complete form where people can now see it and enjoy it, I think and I believe everyone else thinks it's a real gem for the town," says Ludlow. He adds, "This caboose makes a piece of Delaware, but makes a piece of Lewes a little more complete."
The second goal, as stated by Pres. of the organization, Voith, is "What we're trying to do is give current and future generations an idea of the role they played. Give a historical context to what the railroads did and they were part of the industries, the water industry." Nowicki adds, "We have to keep the tradition going for both young and older generations to come."
Leaders with the group also tell us, they are hoping to eventually purchase a steam engine which they will also renovate. However, for now, more work is needed before this project is complete. If you want to donate, volunteer, or learn more, just head to their website.
They are planning to hold a grand opening once the caboose is complete sometime in May, more details to come.