Delaware leaders speak out on the death of Tyre Nichols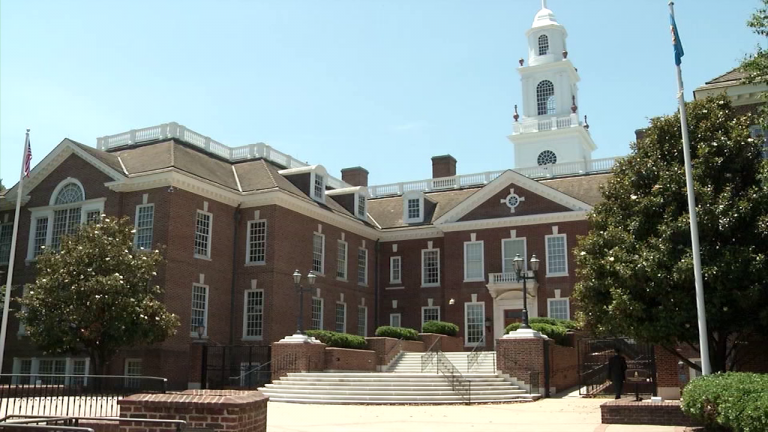 DOVER, Del. – Delaware leaders are speaking out following the release of the police bodycam footage showing the brutal arrest and beating that resulted in the death of Tyre Nichols.
Nichols was pulled over earlier this month for reckless driving in Memphis, Tennessee. An altercation occurred between him and police that resulted in the 29-year-old fleeing on foot. He was eventually found and that's when five Memphis officers apprehended him using aggressive force that resulted in him tragically passing away three days later.
Law enforcement officials released the shocking bodycam footage Friday evening that shows officers restraining and beating Nichols during the traffic stop. This caused a wave of outrage across the country, including right here in Maryland where leaders from across the state are speaking out tonight, condemning the actions of the five police officers who have each been charged with second-degree murder.
Following the release of the footage Friday night, statements of outrage and condemnation were shared by officials from across the State of Delaware, including Delaware Governor John Carney who condemned the actions of the officers and said it was a "obvious and excessive use of force."
"The body camera footage out of Tennessee is beyond disturbing. What happened to Tyre Nichols was an obvious and excessive use of force, with the most tragic result," Governor Carney stated. "No one should be treated in this manner, especially by a law enforcement official. I'm sure many Americans are watching that video footage tonight and they're angry about another example of police brutality. I share that anger – and I agree with Secretary McQueen's reaction. Together, we are trusted to keep others safe. The vast majority of officers, in Delaware and across our country, take their oath seriously. The actions in Memphis further undermine the public trust of law enforcement across the country. Here in Delaware, we will redouble our efforts to improve the relationships between police and the communities they serve."
Governor Carney referenced a statement that was issued prior to his by the Secretary of the Delaware Department of Safety and Homeland Security, Nathaniel McQueen following the release of the bodycam footage.
Secretary McQueen issued a joint statement through the Delaware Law Enforcement Partnership, alongside the heads of the Delaware Association of Chiefs of Police, DSTA, and the Delaware State Lodge FOP,  expressing outrage at the actions of the Memphis Police officers.
"The egregious conduct of these officers is inconsistent with the values that lie at the core of the Law Enforcement profession. We are saddened and troubled by the death of Mr. Nichols and we extend our deepest condolences to his family as they grapple with his untimely, unnecessary, and violent death," the joint statement read. "Delaware's sworn law enforcement are entrusted to keep our citizens safe and serve as unbiased protectors. We believe that all people should be treated humanely and with dignity. We are sickened by the criminal conduct displayed by these Memphis officers. The behavior displayed in this video, as well as all other forms of police misconduct, undermines the public trust that we are working so hard to maintain and build upon."
The partnership's statement then went onto reassure Delawareans, saying: "it is only natural for some to question the state of policing after witnessing such a reprehensible act. The Delaware Law Enforcement Partnership wants to assure our communities that we are committed to continuing to work with our community leaders, elected and appointed officials, and each other, to create a culture of service and community engagement that will prevent a tragedy like the one in Memphis."
Lt. Governor Bethany Hall-Long also issued a statement acknowledging how hard of a time this must be for Nichols' family and calling the actions by the officers inhumane.
"The horrific video footage out of Tennessee is inhumane and unacceptable," Lt. Governor Hall-Long stated. "As a nurse and a mother, no one should be hurt at the hands of those who are entrusted to protect or care for them. My heart breaks for Tyre's mother and his family. There are no words that can encapsulate the emotions they are going through. My thoughts and prayers are with them, the City of Memphis, and all those grieving the loss of Tyre Nichols."
Delaware's Senior U.S. Senator Tom Carper also issued a statement after watching the footage, saying his heart is broken and that his prayers are with Nichols' family.
"Last night, I watched the horrific video of Tyre's death at the hands of five Memphis police officers," Sen. Carper stated. "It was particularly devastating to watch Tyre, a 29-year-old father, son, and friend to so many, call out for his mother as he was beaten and brutalized by the five officers. As a parent, my heart is broken, and my prayers are with Tyre's family and community during this time of unfathomable pain."
Congresswoman Lisa Blunt-Rochester issued a statement as well offering her condolences to the family and condemning the actions of the officers involved in Nichols' death.
"It is with a heavy heart that I send solemn condolences to the family of Tyre Nichols and all those who loved him. After viewing the footage last night, I literally had no words," Congresswoman Blunt-Rochester stated. "What happened to this young man was heinous under any circumstances. That it came at the hands of those empowered and entrusted with public safety is all the worse. As our community, once again, grapples with the collective and individual trauma of a killing at the hands of law enforcement, it is evident that we must pursue legislative solutions to these systemic problems."
Delaware's Speaker of the House Pete Schwartzkopf, House Majority Leader Valerie Longhurst, and Majority Whip Melissa Minor-Brown issued a joint statement following the release of the footage, saying they were sickened by the officers' actions.
"It's hard to grasp the words at a time like this. We're absolutely sickened by the actions of these murder suspects, and we're furious that we're sitting here less than three years after George Floyd's killing lamenting the brutal killing of another Black man at the hands of law enforcement officers," the joint statement read from House leadership. "Everyone who watched the videos showing Tyre Nichols' murder should be disgusted, angered and saddened by this tragedy."
All five officers with the Memphis Police Department – Tadarrius Bean, Demetrius Haley, Emmitt Martin III, Desmond Mills Jr. and Justin Smith – were terminated from their positions with the department and charged with second-degree murder in connection with Nichols' death, according to ABC News.
The bodycam footage of Nichols' violent arrest was released late Friday evening and can be found via ABC News.