Georgetown council violated FOIA request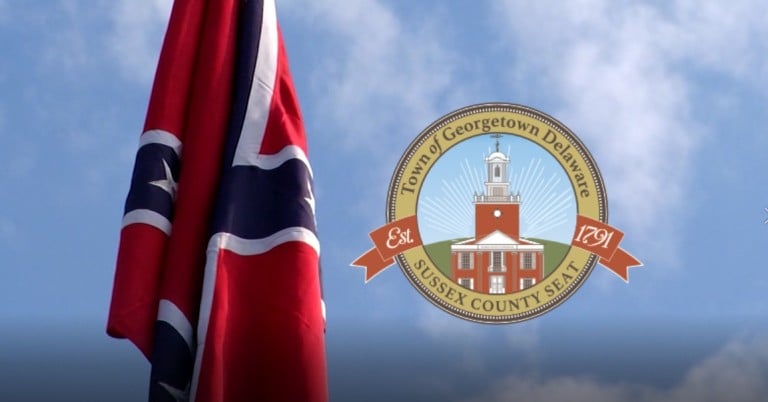 GEORGETOWN, Del. – Calls are now being renewed for at least three Georgetown council members to step down after the Attorney General's Office found they violated a FOIA request when they met privately to approve and then deliver thousands of dollars in funding to a local museum that flies the confederate flag.
Deputy Attorney General Dorey L. Cole issued a response Thursday to a Freedom of Information Act (FOIA) request that was filed by the Southern Delaware Alliance for Racial Justice:
'We find that a quorum of the Town Council violated the open meeting requirements by privately discussing and taking action on the Georgetown Historical Society's grant check without complying with the open meeting requirements.'
The condemnation comes after a check, for more than $24,000, was delivered to the Georgetown Historical Society, who owns and operates the Marvel Museum, where a confederate flag flies at a monument honoring soldiers who fought in the confederacy during the Civil War.
That check that was to be delivered to the organization was voided by Georgetown Mayor Bill West after learning that no formal committee process was established prior to the vote that approved the funding, which could open the door to a potential lawsuit. Three council members, Angela Townsend, Sue Barlow, and Penuel Barrett pushed ahead with that funding, delivering a new check to the historical society last month.
It was that move by the three council members that violated the FOIA through open meeting requirements, a move that has now led Mayor West to speak out following the response from the Attorney General's Office.
"To me, I think this is just about criminal," Mayor West told 47 ABC's Rob Petree. "I'm hurt to realize that we've got three council members that are trying to run the town and make decisions outside of open government. They violated code-of-conduct. To me, they can't be trusted anymore. They've gone behind our back, done secret meetings, and done things they're not supposed to do, and they can't be trusted anymore."
During the town council's meeting on August 22, Councilwoman Townsend explained how she picked up the check from Town Hall, went back to her private workplace, and then called the other two councilmembers to come sign it. Comments which were sited in the AG's response, but efforts that Councilwoman Townsend believes is not a quorum.
"I have been accused of having secret meetings, which I never have," Councilwoman Townsend said during the Aug. 22 meeting. "I would not jeopardize the check by having secret meeting, having a quorum meet."
Now, calls for the three council members to step down are igniting.
"They have violated the trust of the people, they have violated the law," explained Fleur McKendell, president of the Central Delaware NAACP. "It is clear that through their actions they're more interested in their personal relationships with those in town and those who they are doing business with."
Mayor West now wants to see an ethics investigation conducted by the state: "instead of our own ethics committee, I'd think it needs to be investigated by the state because we can't let our towns people who are on the committee have to go through all this nonsense that's gonna be brought out."
47 ABC's Rob Petree spoke to the Delaware Public Integrity Commission just this morning who said that Georgetown is out of their jurisdiction and that their own ethics board would have to investigate.
As of this time, none of the three council members have responded to our repeated calls and requests for comment.