When Can We Expect Our First Freeze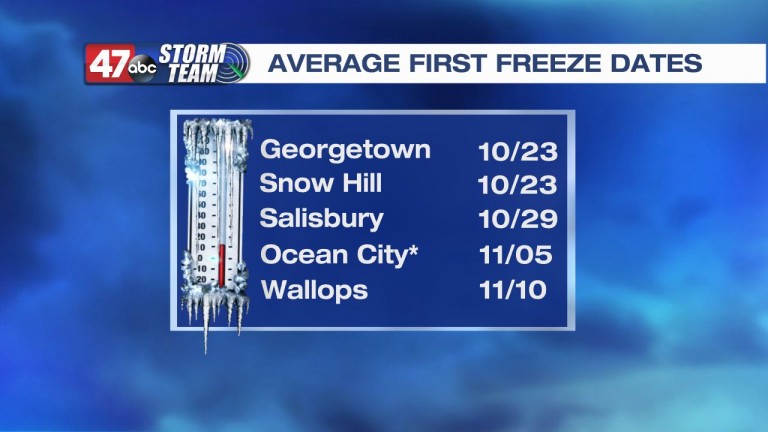 We're almost halfway through October and it's not quite feeling like fall outside. In fact, to finish out the week, highs will be in the low 80s. Average high temperatures for the middle of October are around 70 degrees. S0, we're forecasting to be 10 to 15 degrees above average for this time of year!
With that being said, a lot of us probably aren't thinking about the first freeze (when temperatures are equal to or below 32°F) of the season as it hasn't truly felt like fall outside yet. On average, by the end of October, a few places on Delmarva will experience their first freeze of the year. Typically, our low temperatures don't average around freezing until the middle of December.
But, fall is one of our transitional periods denoted by passing cold fronts that cool us down. And a strong cold front passing through the area could bring us down to freezing. Georgetown and Snow Hill's first freezes typically occur around October 23rd. Salisbury's first freeze on average is October 29th. And Ocean City's first freeze averages on November 5th, but due to periods missing data at this site, the National Weather Service says to use this date with caution. And for our Virginia counties, the first freeze occurs during the second week of the month. Wallops averages their first freeze to be November 10th.
Again, these dates are based on averages taken from data collected during 1991-2020. For now, we won't see freezing temperatures any time soon! But, here are some tips to protect you and your property when temperatures fall below freezing. We always say protect the 4 P's:
Plants: cover plants or bring them inside if you can.
Pipes: insulate exposed pipes to prevent them from freezing.
Pets: bring your pets inside as below freezing temperatures are dangerous for them.
People: make sure you and your loved ones don't spend extended periods of time outside without proper clothing and make sure everyone is inside at night!
As always, you can stay up to date with the 47 ABC Storm Team & we'll let you know when we are forecasting the first freeze of the season!