Climate Prediction Center Issues La Nina Advisory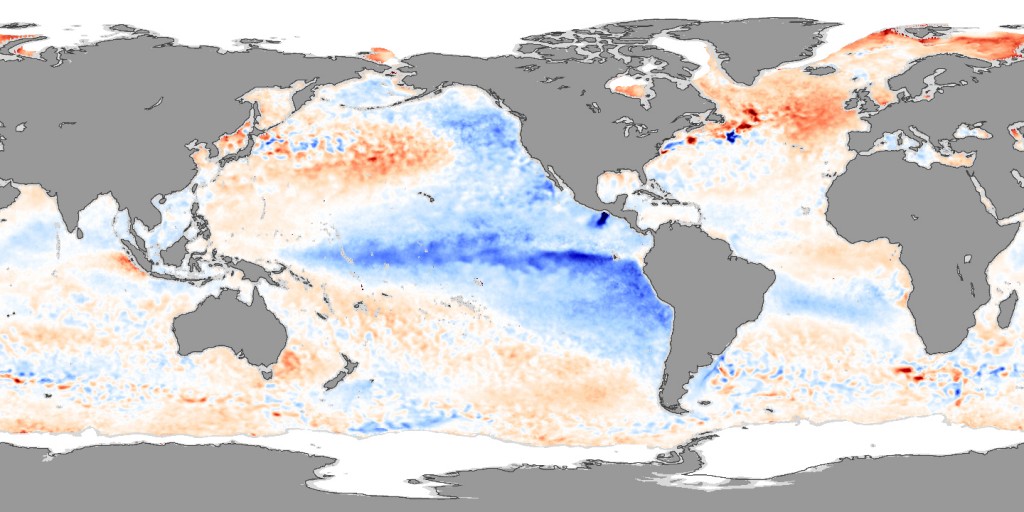 The Climate Prediction Center (CPC) has upgraded the La Niña Watch that was previously in effect to a La Niña Advisory. In the past month, La Niña conditions have emerged, indicated by below-average sea surface temperatures (SSTs) across the central and east-central equatorial Pacific, and this can have a major influence on our weather here on Delmarva this fall and upcoming winter.
Below is a look at why the CPC would issue an El Niño/La Niña Watch or Advisory…
El Niño or La Niña Watch: Issued when conditions are favorable for the development of El Niño or La Niña conditions within the next six months.
El Niño or La Niña Advisory: Issued when El Niño or La Niña conditions are observed and expected to continue.
Final El Niño or La Niña Advisory: Issued after El Niño or La Niña conditions have ended.
El Niños and La Niñas are very different and impact many parts of the United States in different ways.
According to the CPC, a La Niña exists when:
There is a one-month negative sea surface temperature anomaly of -0.5° C or less is observed in the Niño-3.4 region of the equatorial Pacific Ocean and an expectation that the 3-month Oceanic Niño Index (ONI) threshold will be met , AND

An atmospheric response typically associated with La Niña is observed over the equatorial Pacific Ocean
Over the past few months, La Niña conditions have been observed along the equatorial Pacific. The La Niña weather pattern is expected to continue through winter 2021-2022. Below is a look at the predicted Niña and its strength over the next several months. Notice how most forecasts show a moderate Niña early in the winter, then turning into a weak one by the end of winter. It also shows that the La Niña may last into spring 2022.
So what does this mean for our upcoming winter here on Delmarva? Well, a La Niña winter typically brings the Mid-Atlantic region warmer than normal temperatures and average to below average snowfall. But there have been exceptions to the rule. Not all Ninas and Ninos are alike. Some are snowier than others because La Nina isn't the only factor needed to bring cold or snow. There are other factors to look at when determining how much of an impact the La Niña will have during the winter season. La Niñas are also known for bringing strong arctic outbreaks, especially across the northern half of the U.S. Those arctic air masses can make it all the way to east coast and deep south too, but they don't typically last too long in those areas. However, the stronger the Nina, the greater the chance of having a colder winter and those arctic outbreaks lasting longer.
This winter will likely be a weak to moderate Niña, similar to last year. However, this years Niña may be slightly stronger, which could favor colder temperatures than last year and maybe more snow. There's so much more to look at before we get a better idea at what to expect this winter. Stay tuned because the 47 ABC Storm Team will be releasing their official detailed winter outlook on Wednesday, November 10th during the News Hour.