Loss of Daylight from Fall to Winter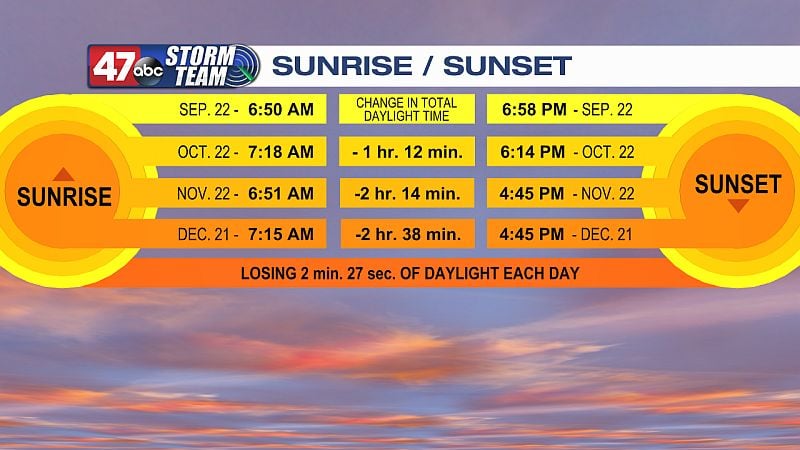 Today is the first day of fall, and that means many things. But the two main things are:
1. The weather is going to start to get cooler, and
2. The days will get shorter.
But how short and how quickly does it happen?
Today's sunset is at 6:58 PM, but just one month from today (October 22), the sun will be setting at 6:14 PM. A loss of 44 minutes of daylight. But today's sunrise was at 6:50 AM, and in just one month the sun will be rising at 7:18 AM. That's a loss of 28 minutes of daylight. That makes a total loss of 1 hour and 12 minutes of daylight. Right now, we're averaging a loss of 2 minutes and 27 seconds of daylight a day.
As we get closer to winter the process slows down a bit. By November 22, we lose a total of 2 hours and 14 minutes of daylight when you compare it to today (September 22), and by December 22, we have officially lost about 2 hours and 38 minutes when compared to today's amount of daylight.
The earth continues to revolve around the sun and as we get closer to winter the northern hemisphere is tilted away from the sun, meaning cold weather and the shortest days of the year. Once we pass the winter solstice (first day of winter), the days will start to get longer and we'll gain daylight again.