Ten year anniversary of the earthquake that shook the Eastern U.S.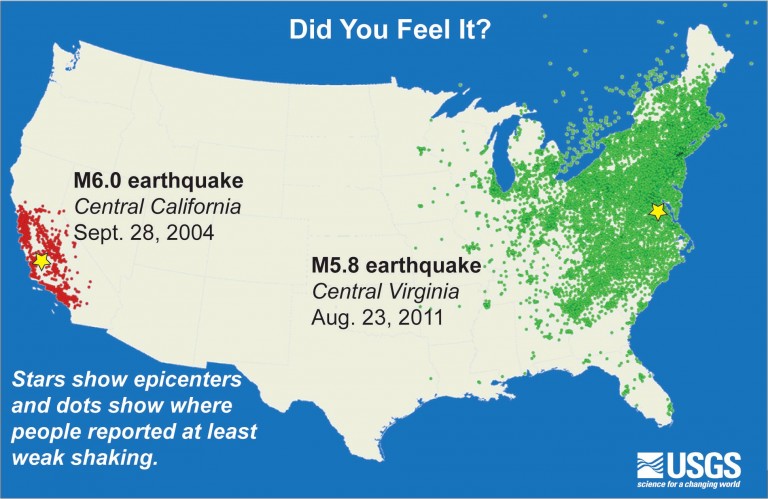 Do you remember the strong earthquake that struck our area on August 23, 2011? Did you feel it?
Earthquakes don't normally impact our area, but one did exactly ten years ago today. At approximately 1:51 PM on August 23, 2011, a magnitude 5.8 earthquake struck Mineral, VA. The shaking began about 4 miles below the Earth's surface, causing shockwaves to move up and down the entire east coast. The shaking was felt as far south as Florida and as far north as Canada. Widespread damage was reported in Mineral, VA, which was the epicenter. Even the Washington Monument and National Cathedral in D.C. had damage. Luckily, no deaths or serious injuries were reported. Here is a "shake map" that shows you the areas that had the strongest shaking.
The earthquake was the strongest reported east of the Rocky Mountains since 1944, and the strongest quake in Virginia history. There is a relatively quiet seismic zone in Virginia that wakes up occassionally, and on this day it really woke up. Numerous aftershocks occurred after the main quake, one being a 4.5-magnitude.
Even though it's been ten years since the 2011 quake, memories are still quite fresh. I remember it as if it was just yesterday. Here's my quick recollection, which is a little embarrassing:
I had just gotten back from a three day drive from Great Falls, Montana to Woodbridge, Virginia where I had just moved back from after my first job in TV. I was in the basement unpacking when nature called. I went to the bathroom and just as I was about to go I heard a loud banging and rattling noise upstairs. I assumed it was the dog just chasing my cat around because they had just met. And then seconds later I felt it. The bathroom started shaking and then I heard my mom and sister screaming upstairs. I quickly pulled up my pants and ran out the bathroom door and up the steps to the main floor. As I ran upstairs I yelled to my mom and sister to get in the doorway. I stood in the doorway to the front house while my mom and sister stood in the kitchen doorway. My mom was hysterical and yelling about her dishes because they were rattling around. I looked outside and I saw something I will never forget. The ground was moving around like jello and the trees shaking back and forth. Once the shaking stopped, we all went outside, where we saw a lot of our neighbors. That was quite the day. I'll never forget that I was going to the bathroom the moment the strongest earthquake in Virginia history struck.
We haven't had a quake like that on the east coast since then, but if it happened once it can happen again. Tell us your earthquake stories by commenting on our 47 ABC Storm Team Facebook page.