Teen facing multiple charges after intoxicated car chase in Berlin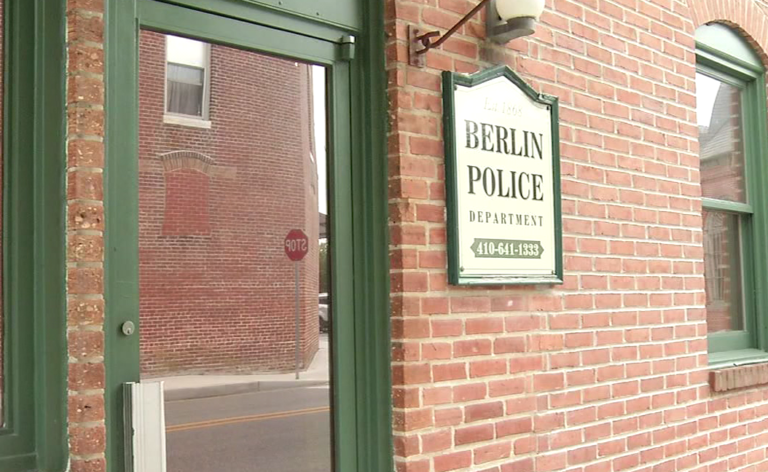 BERLIN, Md. – Berlin Police are investigating a motor vehicle theft. Police say around 3:00 a.m. Sunday, an officer was looking into an undetermined noise in the are of Tripoli and Church Street. Police say when the officer arrived, he saw a vehicle doing donuts in the travel portion of the roadway with a damaged rear tire. The officer tried to conduct a traffic stop, but the vehicle sped away, running multiple stop signs.
Police say as the vehicle was fleeing, it almost hit a second Berlin Police Department vehicle on Main Street. The driver of the vehicle reportedly ignored several sirens and emergency lights as he continued to drive away. Police say the vehicle then went off the road, hitting and damaging a streetlight on Main Street near Stevenson Church. The vehicle then went back onto the roadway, over a sidewalk, and finally stopping in a yard in the 200 block of North Main Street. Police say in total, damage was done to yards on Church, Gay, Main, and North Main Streets.
Later in the day, around 10:50 a.m., Maryland State Police began investigating property damaged by a vehicle at a home on Worcester Highway (US Route 113). Troopers say the same 16-year-old had damaged two separate fields, bushes and other landscaping, and a utility box.
The 16-year-old male driver was not hurt, and arrested without incident. Police say the driver stole was suspected to be under the influence of alcohol. Investigators say the vehicle was stolen from a home on Old Ocean City Boulevard. Police say the owner of the vehicle had no relationship or knowledge of the 16-year-old.
The 16-year-old is now facing multiple charges, including motor vehicle theft, driving while intoxicated, reckless and negligent driving, and driving without a license. He is also being charged with fleeing and eluding, driving wrong way in a one way, leaving the scene of a property damage accident, and rogue and vagabond. The Department of Juvenile Justice ordered the 16-year-old to be released to a parent.