Caesar Rodney School District Unveils David E Robinson Elementary School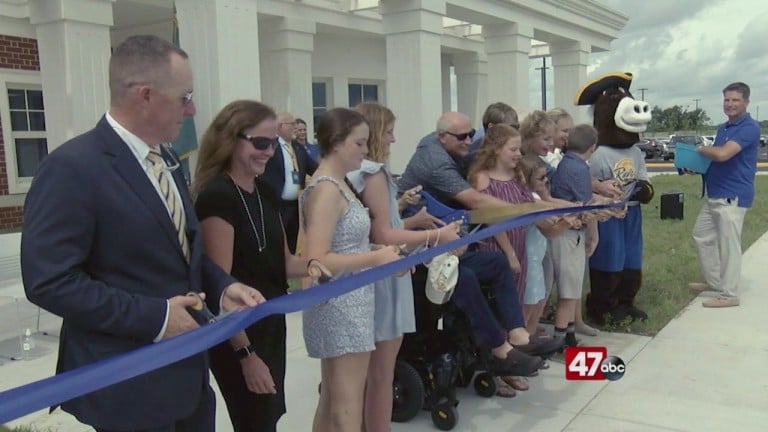 MAGNOLIA, DE-  A brand new elementary school is opening up for students in Caesar Rodney school district, David E Robinson Elementary.
Dedicated to the former district superintendent who was in attendance  Wednesday for a special ceremony.
The 63-thousand foot space allows for an additional 600 students to be enrolled in the district.
The current superintendent telling 47ABC the space is much needed and welcome.
"It's gonna help ease some of the pressure we have at our other schools," said Superintendent Dr. Kevin Fitzgerald.
Fitzgerald believes as Magnolia's population is rising, to keep academic standards high they need to keep class sizes low.
And with the new building, they can.
"We are able to reduce the size of students the number of students that are actually attending those schools,"  he said.
Their school board president Mike Marsaco agrees and believes that's what draws people to their school district and their new building.
"The benefit of our new school is smaller class sizes," he said adding "It feels great'd say our whole community is excited about this school."
Both say the larger rooms, brand new technology, and A/c- won't just keep kids engaged; but safe too.
That's because the added space allows for all of Caesar Rodney's elementary schools to be in person- without breaking social distancing rules or capacity limits.
"Being able to open another school allows us to bring everyone back," Dr.Fitzgerald said, adding "it's perfect timing we were very fortunate."
The school also announced a 1,000 Scholarship for students who go through the elementary school all the way to highschool, in David Robinson's Name, that they'll be able to use towards college.
Dr. Kevin Fitzgerald told 47ABC his district is one of the first to open up for classes in Delaware- and they cant wait to get started