NOAA Forecasters Predict Another Above Average Atlantic Hurricane Season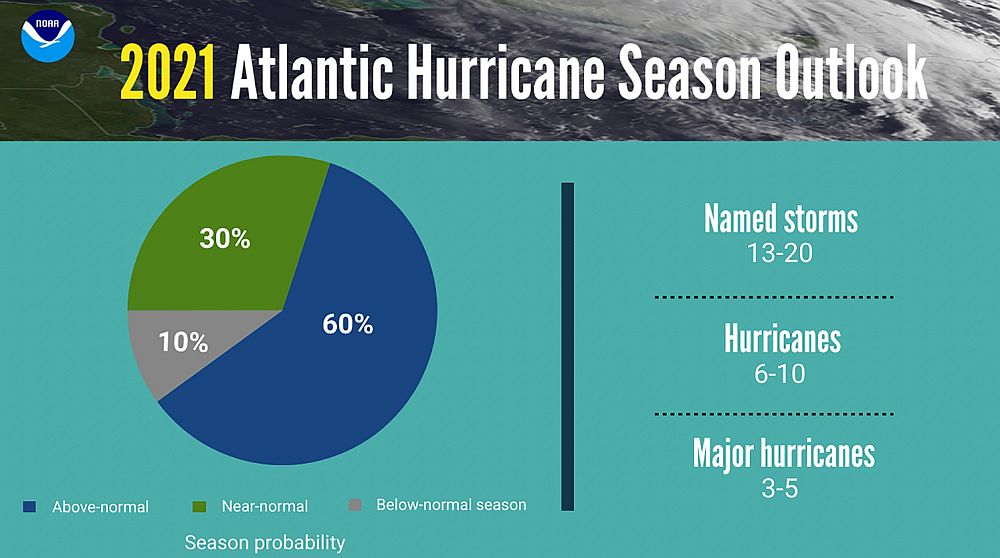 The National Oceanic Atmospheric Administration (NOAA) released its 2021 Atlantic Hurricane season outlook today.
After a record breaking 2020 season, the last thing anyone wants is for another active hurricane season. Unfortunately, NOAA is expecting it to be an active season. It likely won't be as active as last year but there is a 60% chance of above normal activity. There's a 30% chance of a normal season and just a 10% chance of a below average season.
NOAA is predicting 13-20 named storms, with 6-10 of those becoming hurricanes, and 3-5 becoming major hurricanes (category 3+). Colorado State University (CSU) is also predicting an active hurricane season. Their forecast is very similar to NOAA's. Both NOAA and CSU accurately predicted last year's well above average hurricane season.
A "normal" season brings 14 named storms, 7 hurricanes, and 3 major. That's up from the old "normal," which used to be 12 named storms, 6 hurricanes, and 3 major. The number of storms expected per season has gone up due to hurricane seasons becoming more active over the past decade.
The record breaking season of 2020 occurred mainly due to the La Nina pattern. La Nina's typically allow for low wind shear in the Atlantic and bring more favorable conditions for hurricane development. Due to this, a record breaking 31 storms formed, with 30 actually getting names, 14 turning into hurricanes, and 7 major hurricanes. This year is an ENSO Neutral year, meaning neither La Nina nor El Nino is present. However, there is a chance La Nina could return.
The Atlantic hurricane season begins June 1 and ends November 30.