St. Patrick's Day Climatology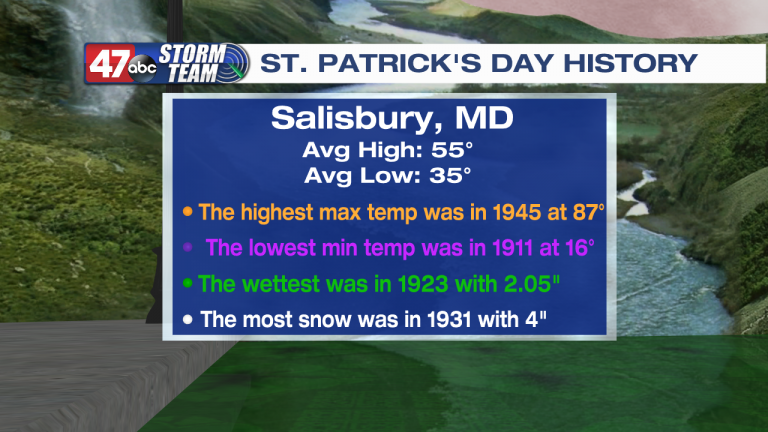 St. Patrick's Day has had some interesting weather in previous years. In 1931, Salisbury received 4 inches of snow! And in 1945, there was a record high temperature of 87 degrees. While the
coldest low temperature was set in 1911 at 16 degrees. On average, March 17 (St. Patrick's Day) has a high temperature of 55 degrees and an average low temperature of 35 degrees. Also, the
average daily precipitation is 0.08″ on St. Patrick's Day.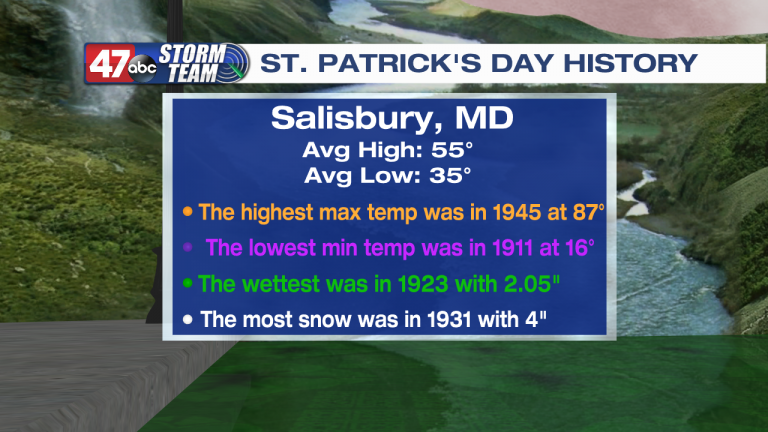 Based on data from the past 5 St. Patrick's Days, there were only trace amounts of rain in 2017 and 2018. While 2016, 2019 and 2020, all received no precipitation. Thus, the past five St. Patrick's Day have been below average with precipitation. In 2016 and 2020, both the high and low temperatures were above average. According to the National Weather Service, about every two in three St. Patrick's Days will have high temperatures from 44 to 69
degrees and lows from 25 to 46 degrees. The coldest St. Patrick's Day in the last five years was in 2018 with a high temperature of 44 degrees and low temperature of 22 degrees.
Earlier I had mentioned that the most snowfall on record for St. Patrick's Day was in 1931 at 4 inches. The most recent snow event on this holiday was in 2014 when 3.0 inches of snowfall was recorded. But, at the 7 AM observation, there was 4.o" of snow on the ground. This was also the coldest St. Patrick's Day on record in terms of high temperatures at 32 degrees. On average, there is a 5% chance it will snow on St. Patrick's Day.

Tomorrow, weak high pressure will build onto Delmarva causing us to have drier weather. Mostly cloudy skies can be expected with highs in the mid to upper 50s, which is a few degrees above average.
Wear green tomorrow & tune into 47 ABC for your St. Patrick's Day forecast!