Sussex County's first affordable rental project underway at Coastal Tide Apartments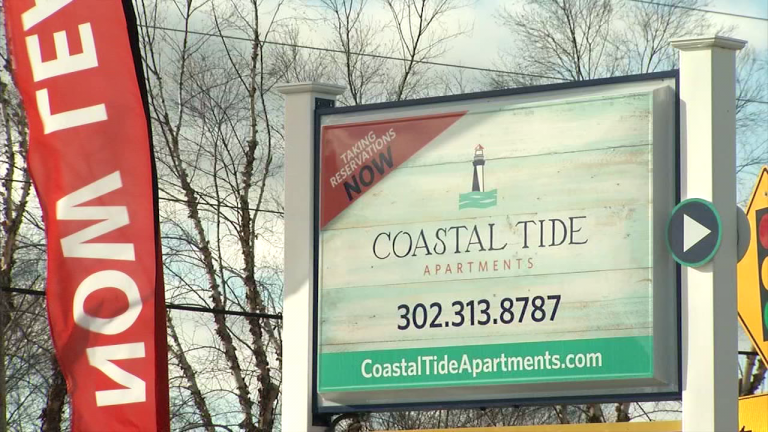 LEWES, Del. – After ten years of careful planning, Sussex County's first-ever affordable rental project is now underway at the Coastal Tide Apartments in Lewes. This is all part of the Sussex County Rental Program, which "seeks to stimulate the provision of affordable rental housing for the residents of Sussex County."
"It's on the east side of the county where we have long since seen a demand in affordable housing," said Sussex County Housing Coordinator and Fair Housing Compliance Officer Brandy Nauman.
Sussex County officials say 26 out of the 168 units of Coastal Tide Apartments will be reserved for the program. The county will use a lottery system and create a waiting list so that there's a fair opportunity for all applicants. Applicants must also have lived and worked in Sussex County for a year and be of eligible income.
County officials say the program was approved in 2008, but since then they've been met with a host of challenges like a market crash.
"Shortly after the program and this very first project was approved by the county council the market crashed and since then the project has gone through a series of owners," said Nauman.
Senator Ernie Lopez tells 47ABC a lack of affordable housing is a real issue in Sussex County. He says particularly on the eastern side it's tough for young professionals to live close to where they work. And according to the Housing Alliance Delaware, in 2019 it would take 93 hours at a minimum wage job to afford a two-bedroom apartment at Fair Market Rent in Sussex County.
"So any sort of program and incentives that we can be providing at the government level to ensure affordability for housing whether through mortgaging or through rentals are a step in the right direction," said Senator Ernie Lopez.
Nauman says she hopes this new project will inspire other developers to participate in the rental program.
County officials say the lottery will be open from now until January 22, 2021. For more information about how you can participate in the Sussex County Rental program as a developer or a tenant, you can call Brandy Nauman at 302-855-7779.
Click here for more information about the Sussex County Rental Program.