Dover Interfaith Mission for Housing continues to search for new home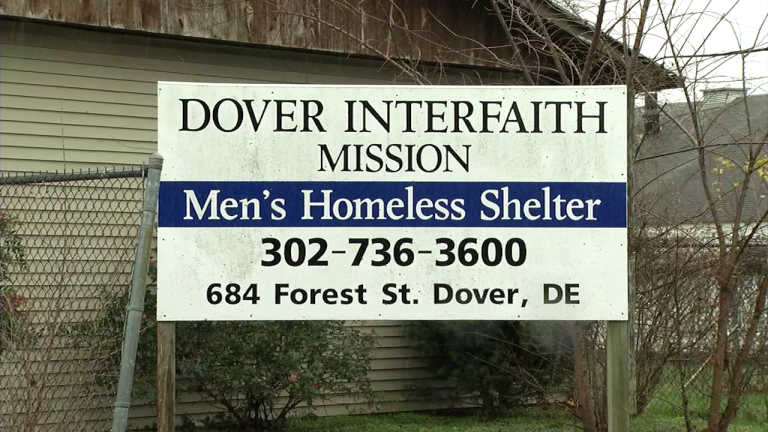 DOVER, Del. – In Delaware, the nonprofit Dover Interfaith Mission for Housing is pushing for survival. On Monday, the city council denied an application to rezone a property on West Division Street slated to become the homeless shelter's new site before the end of their lease.
"We don't have the opportunity to extend it beyond the end of December a year from now, so we are anxious," said Jeanine Kleimo, chair at the Dover Interfaith Mission for Housing.
According to the council, this is a result of petitions protesting the application that represented at least 20 percent of the nearby property owners. Councilman David Anderson says the council needed a supermajority to approve the rezoning. The chair of the organization Jeanine Kleimo says they've been met with a host of challenges including concerns from neighbors on panhandling and more.
"There are people who are wanting to be on the street so they can do drugs and wander around and steal from people but that's not the population that we serve," said Kleimo.
She says the men's homeless shelter and resource center actually does a lot for the community by helping the homeless get back on their feet.
"Constantly people are saying wow, they're so polite," said Kleimo, "They're just normal guys down on their luck and that's true and we've actually had a number of men make good connections for employment."
According to Anderson, homelessness is a real issue in Dover so it's important that the organization continues to fight for a new home.
"They have a great volunteer and staff base and they know what they're doing after 12 years," said Anderson, "They have a very successful model and so we just need to support them in making that happen."
The Dover Interfaith Mission for Housing says their next step is hopefully finding a place that's already zoned properly.