Pilots deliver critical PPE to Delaware health center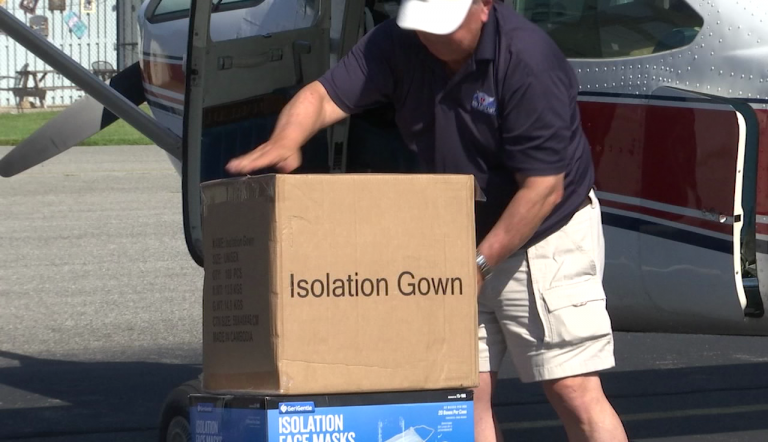 GEORGETOWN, Del. – As the coronavirus pandemic rages on, personal protective equipment for healthcare workers is getting harder to come by.
"Whether its medical gowns, whether it's surgical masks, level two or level three, they're in great demand," said Director of Development and Communications of
La Red Health Center, Kevin Loftus.
And it's equipment health officials at the La Red Health Center in Georgetown, are in dire need of.
"Our providers, just like every other provider, they're in desperate need of it," said Loftus.
Which is where these pilots come in. Delivering 30,000 face masks and surgical gowns to the La Red Health Center to ensure frontline workers have the equipment they need to keep themselves safe, while providing care to others during the pandemic.
"We volunteered in a heartbeat," said one pilot, Robert Marmon.
Marmon, along with his daughter and other pilots, are volunteers with the Angel Flight East organization where they normally fly patients in need of medical treatment far from home all for free. But when the pandemic began- they had to put a hold on patient flights. So instead of transporting people, they're transporting PPE instead, to healthcare facilities that need them most. All at no cost.
"It's good for pilots, it keeps us proficient, it keeps us in there air, and just the icing on the cake, it's a particularly worthwhile thing to do," said another pilot, Dan DeDona.
Officials say by getting these essential items, it helps the La Red Health Center to be able to offer more in-person services to patients.
"We want to get back to providing on-site services, but we want to do it in a very safe way for our patients, and a safe way for our providers," said Loftus.
And when asked why these pilots dedicate their time to flying these items around the world. This is what they had to say:
"It's just humans helping humans and I think that that is one of the most important things that we can do," said pilot, Joanna Marmon.