Extreme Weather Across the U.S.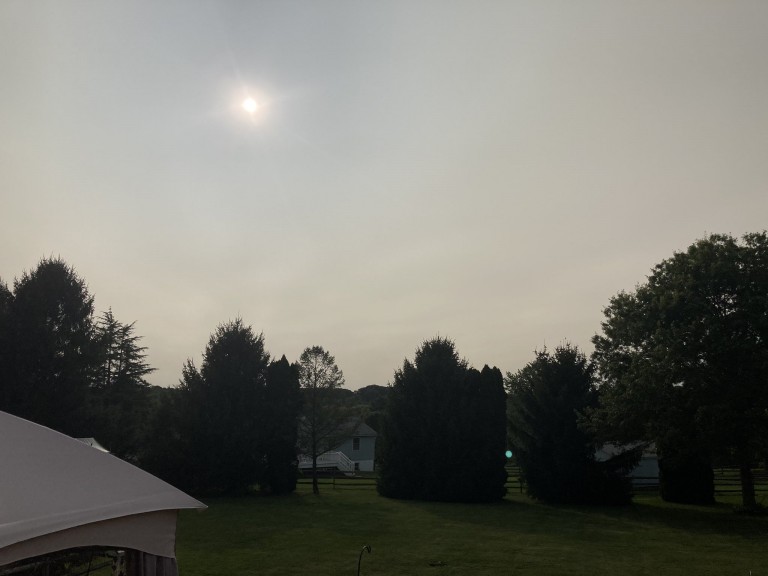 Did you notice the haze on Delmarva today? That was actually smoke from the wildfires out west. The smoke traveled thousands of miles and made it to Delmarva. Luckily the smoke is high up in the atmosphere and is not expected to impact our air quality. However, there is a chance you could smell it, but most of it is staying 15,000-20,000 feet up.
Forecast models show some of that smoke lingering across Delmarva on Tuesday, so don't be surprised if there is some hazy or smoky sunshine.
Meanwhile, millions of acres have burned across California, Washington, and Oregon. 90 large fires continue to rage on and at least 35 people have died from the fires, and unfortunately the weather conditions won't be improving soon. Strong winds remain in the forecast across parts of California, one of the hardest hit states. President Trump visited California on Monday and spoke to officials across the state. Governor Newsom of California in a roundtable discussion said to Trump, "the hots are getting hotter, and the dries are getting drier" in reference to how the climate is changing. The California Natural Resources Secretary Wade Crowfoot weighed in and urged the president to "recognize the changing climate and what it means to our forests." In response, President Trump said, "it will get cooler, just you watch."
It's been very scary in the west and apocalyptic scenes like in the picture below have been common lately from Portland to San Francisco.
There is extreme weather occurring across the Atlantic too but in a much different way. At one point today, there were five named tropical systems in the Atlantic Basin. Category 2 Hurricane Sally, Category 2 Hurricane Paulette, Tropical Storm Teddy, Tropical Storm Vicky, and Tropical Depression Rene. Paulette hit Bermuda in the early morning hours of Monday, Sally is taking aim at the Gulf Coast expected to make landfall around Mississippi or Alabama on Tuesday, while the other storms aren't expected to be threats to the U.S. However, stay tuned in case there are any changes.
This has been a very active season and we're almost through the entire alphabet for storm names. There is only one storm name left on the list this year, so what happens when we use up that last name? We go to the Greek Alphabet starting with Alpha. Last time that happened was in 2005.
While we're currently in the peak of hurricane season, the season doesn't officially end until November 30th.