Hurricane Laura Expected to Bring Devastation to parts of Texas/Louisiana Coast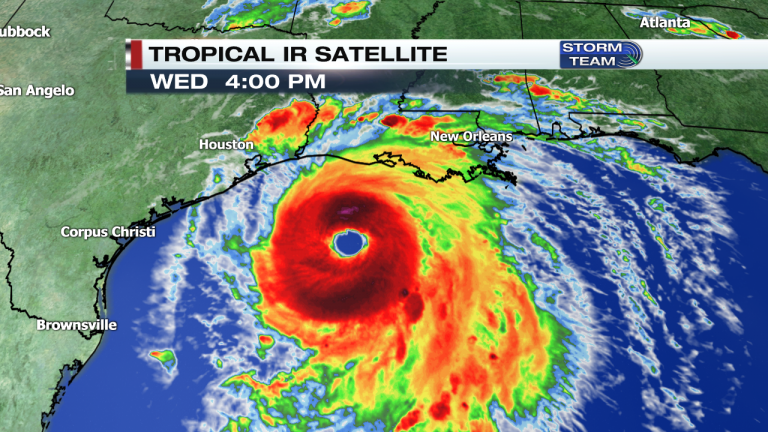 Hurricane Laura rapidly intensified Tuesday night into Wednesday, going from a category one to category four hurricane in less than 24 hours. Laura is expected to make landfall around midnight Thursday morning along the Texas and Louisiana border.
The latest visible satellite imagery is stunning and scary. The eye of Laura is very large at this hour and almost perfectly symmetrical, a true sign of a very strong hurricane. With low wind shear and very warm water temperatures (90°+), conditions are ideal for even more strengthening.
The biggest concern with Hurricane Laura will be the storm surge it's expected to bring along the Texas and Louisiana coast. Storm surge is a major push of water inland, bringing major flooding to normally dry areas. The storm surge with Laura could be as high as 20 feet in some spots. This means communities will be completely under water, especially those below sea level. Storm surge is the number one killer when it comes to hurricanes.
The National Hurricane Center said today that the storm surge will be "unsurvivable" and that people must evacuate in order to make it through the storm. Winds will be another major concern with Laura. Winds are currently sustained at 145 mph and gusting to 175 mph. These winds will cause destructive and catastrophic damage.
Once the storm pushes inland, it's expected to weaken and take a right turn toward Delmarva by the weekend. Laura will likely lose its tropical characteristics by the time it reaches Delmarva, so we're only expecting some rain and thunderstorms Saturday afternoon and Saturday night, but some of the rain could be heavy.
Stay tuned to 47 ABC for the latest forecast on Laura, and be sure to follow the 47 ABC Storm Team on Facebook.