National Weather Service Scheduled to Survey Tornado Damage on Delmarva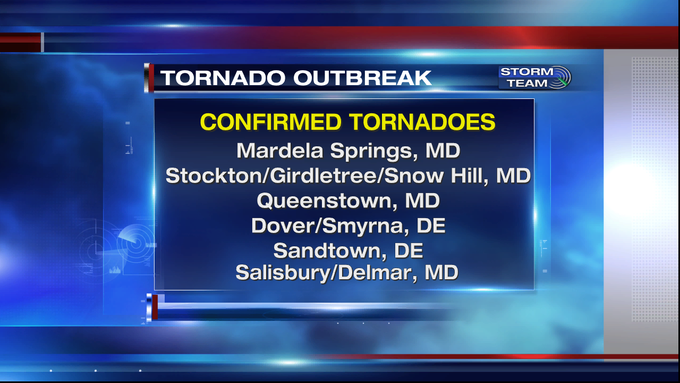 A very rare tornado outbreak spawned by Tropical Storm Isaias pushed through Delmarva on Tuesday.
Widespread damage was reported all across the region, some areas hit much harder than others. It was determined, either my radar or by eyewitnesses, that some of the damage reported was directly due to tornadoes.
There were six confirmed tornadoes on Delmarva. Four touched down in Maryland, and 2 touched down in Delaware. The four in Maryland occurred in Mardela Springs, the Snow Hill area, Queenstown, and the Salisbury area. The two in Delaware were in Dover and Sandtown.
The National Weather Service will be coming to Delmarva this week on Thursday and Friday to survey the damage. They'll complete full assessments to determine the path of each tornado and the strength of each. They'll also help determine if there were just six tornadoes that touched down or if there were more. Jeff Orrock with the National Weather Service in Wakefield, VA says that there may be more than just six. When asked specifically about other damage reports coming out of Quantico, MD, Orrock said that that damage "is likely a separate tornado."
The 47 ABC Storm Team will continue to provide updates on the tornado damage and the official track and strength of each. Stay tuned.