What's Steering Hurricane Isaias and Where Will it Make Landfall?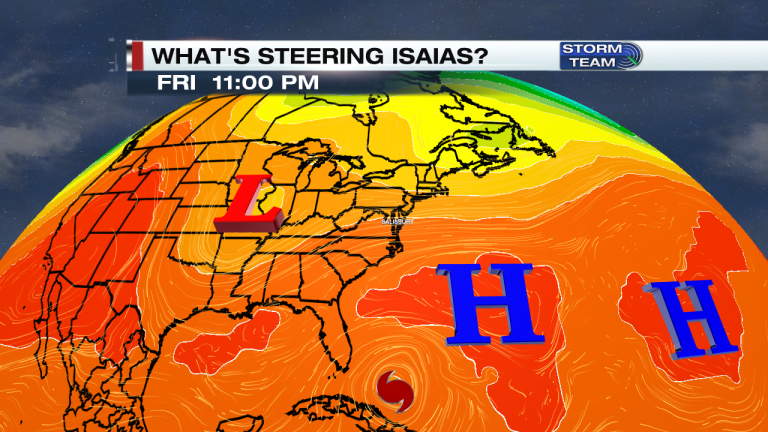 Hurricane Isaias continues to show some signs of strengthening tonight as it pushes through the Bahamas. It is expected to push into an area with some strong wind shear off the coast of Florida, which will likely prevent the storm from becoming anything more than a category 1 hurricane. However, I wouldn't be surprised if Isaias strengthens more than expected. Why? Well, it's already survived dry air early in its development and dry air is supposed to weaken storms, so it could continue to defy the odds. Plus, it's looking healthy on satellite tonight. Stay tuned. Below is a look at the latest satellite imagery from this evening.
We're paying close attention to this hurricane and so should everyone else because it could impact people from Florida to Maine over the next several days. So what's steering Hurricane Isaias and where will it go next? Below is a graphic showing a strong Bermuda High in the middle of the Atlantic and a Trough across the middle portion of the U.S. Both of these will help steer Isaias. For example, if the Bermuda High remains strong it can push Isaias into Florida. If the high pressure in the Atlantic is weaker, then Isaias will likely start to recurve north and miss Florida, especially if Isaias continues to strengthen. The stronger a hurricane the greater the chance it recurves around the Bermuda High. Either way you look at it, Isaias will likely recurve, but when will it recurve? That is the question.
Right now it appears there are two main paths Isaias can take. One potential path is making landfall in Florida and staying mostly inland as it recurves and heads north toward Delmarva. This path will weaken the storm. It would still bring Delmarva heavy rain and flooding, but the wind impact may not be as high due to the storm weakening. The other scenario keeps Isaias in open water for longer, giving it a chance to strengthen more as it heads north. This would likely bring not only heavy rain and flooding, but also very strong winds. Plus, there would be more of a marine impact (coastal flooding, etc) with this path. Either way, it's looking likely that Delmarva will at least see some heavy rain and flooding problems Monday and Tuesday next week.
2-4+ inches of rain is not out of the question. Below is the latest rainfall forecast from the Weather Prediction Center.
Rip currents will also be a problem at the beaches. Moderate rip currents are expected this weekend, and that will likely switch to a high risk next week.
Here's a look at the National Hurricane Centers latest track of the storm, which shows a strong tropical storm tracking over Delmarva Monday into Tuesday next week. If this plays out the way the track shows, it would bring flooding rains and very strong winds, especially at the beaches.
Below is a zoomed in look at the latest track.
Stay tuned to 47 ABC News and the 47 ABC Storm Team. Be sure to follow us on Facebook (Meteorologist Daniel Johnson, Meteorologist Sloane Haines, and Meteorologist Ulises Garcia), and on Twitter (@DanielJohnsonwx, @SloaneHaines, and @wxulisesgarcia) for the latest information.