Tropical Storm Isaias Strengthening; Heading Toward East Coast of U.S.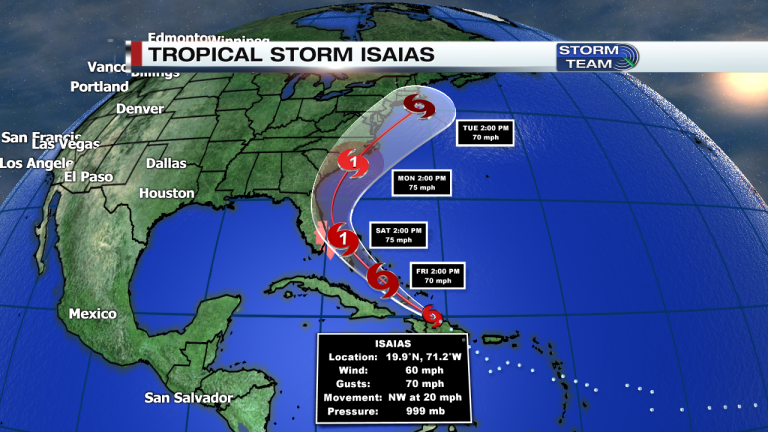 Tropical Storm Isaias (ee-sah-EE-ahs) took a while to develop, but it is now beginning to show some signs of strengthening as it pushes north of the Dominican Republic. Earlier it brought record rainfall and dangerous flooding to Puerto Rico. Tropical Storm Warnings and Hurricane Warnings are up for portions of the Bahamas, while a Tropical Storm Watch is posted for eastern parts of Florida. Below is a look at the latest infrared satellite imagery, which shows plenty of convection and thunderstorm activity, even around the center of circulation. This is a sign of some strengthening for Isaias. It still may struggle a bit as some dry air is still nearby.
Here is the latest track of Isaias from the National Hurricane Center, which shows the latest watches and warnings. Notice Delmarva is in the "cone of uncertainty." Right now the path of the storm should stay just offshore, but it could come close enough to bring wind and rain to Delmarva by late Monday and into Tuesday. As long as we're in or near the cone, we shouldn't let our guard down.
Everyone from Florida to New England should pay attention to this storm as it lifts north into more open water. The latest spaghetti model forecast chart shows the storm curving up along the east coast, and making landfall in eastern North Carolina, then staying just offshore of Delmarva. Overall though, the intensity forecast is keeping Isaias as a tropical storm. Some models bring it up to category 1 hurricane status.
Just because the models are showing this now doesn't mean this is exactly what will happen. It's always a challenge forecasting both the strength and path of tropical systems. A Bermuda high pressure system in the Atlantic and an approaching trough west of Delmarva will be the steering mechanisms for Isaias, so we'll be watching those closely. Isaias has been fighting a lot of dry air lately, but models do show the best chance for strengthening will be as it curves right before Florida and heads north. One reason is the well above average sea surface temperatures. Notice the chart below showing water temperatures along the east coast. They are 2-5 degrees Celsius above normal. Warm sea surface temperatures can really help a tropical system strengthen. We'll have to watch what happens when and if the storm takes the track it's expected to take.
Keep it tuned to 47 ABC as we'll continue to monitor this system.