DACA recipient health care workers on frontlines of COVID-19 fight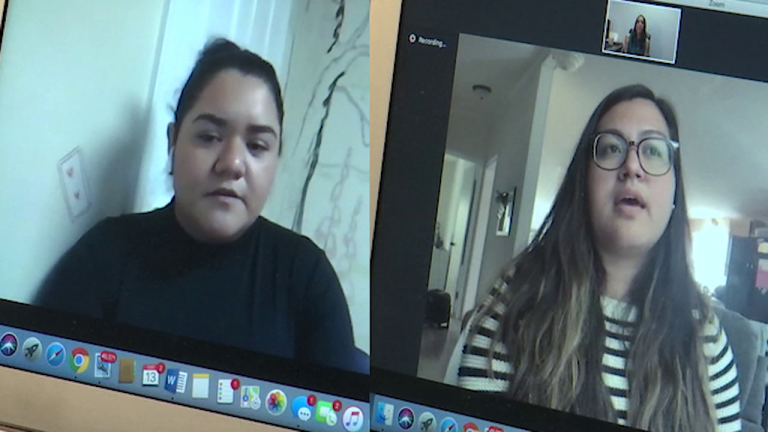 DELMARVA – "So, we have seen a couple of patients that have tested positive for COVID-19, primarily our older kids," said Alexa Reyes, an Easton resident.
Alexa Reyes is just one of many undocumented immigrants protected by the DACA program who are on the frontlines helping to stop the spread of COVID-19.
She was only nine when her parents decided they wanted to live in Maryland to escape poverty in Honduras. Now she's working as a translator and receptionist at a pediatric clinic in Easton where doctors depend on her translations to help save lives.
"I've seen a lot that these families do come from a Latin American country, but they have a dialect and sometimes their Spanish level is very intermediate," said Reyes.
Meanwhile, in Delaware, Korayma Rodriguez an undocumented immigrant from Mexico also protected by DACA is helping patients with underlying conditions as a translator and technician at an eye clinic in Milton.
"So, we have a lot of patients who need surgery and who speak Spanish, so it's kind of like you have to translate the documents, make sure they're correctly translated," said Rodriguez.
Rodriquez says working in health care right now is something that puts her safety at risk because of the current pandemic.
"Some of these patients do have eye infections and things like that and you never know if that's one of the symptoms," said Rodriguez.
But for Rodriguez and Reyes these are risks they're willing to take to ensure patients are safe even though their own futures are not guaranteed because of the uncertainty surrounding DACA.
"Right now, everything's just in the air that it's scary," said Rodriguez.
You don't want to do too much because you don't know if you're going to be here in the next year or two," said Rodriguez.
Both Rodriguez and Reyes say they also hope that their stories will help bring hope for many undocumented immigrants who are afraid for what they're future holds.
Reyes says she also hopes that her story along with others like hers will help influence the Supreme Court's decision on the future of the DACA program.