Allergy Season 2020: Spring Flowers Blooming Ahead of Schedule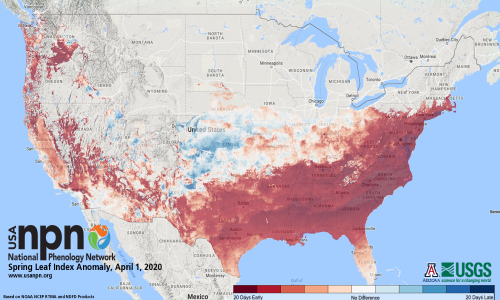 Allergy season is here and it is here early. Delmarva did not have much of a winter. Temperatures were above average and we only recorded a trace of snow during the winter months. This unfortunately has helped some flowers and trees bloom early. Haven't you already seen the pollen all over your car? Yuck!
Attached is an image that tracks the progress of spring across the United States. The areas in dark red, which includes Delmarva, are experiencing "leaf out" 2-4 weeks ahead of schedule. Leaf out is when leaves start to show themselves on some trees and plants, specifically honeysuckles and lilacs. Our area is way ahead of schedule, and this is due to the warmer than normal winter. Blooms are also ahead of schedule, including the cherry blossoms in Washington, DC, and some deciduous trees across our area.
Experts are saying based off of this and other factors, this allergy season will likely be worse than last year, and potentially the worst allergy season on record.
For more on how to track springs progression, you can go to usanpn.org. You can also listen to episode 6 of our 47 ABC Weather Wise podcast, available wherever you get your podcast.