Local representatives weigh in on Presidential Impeachment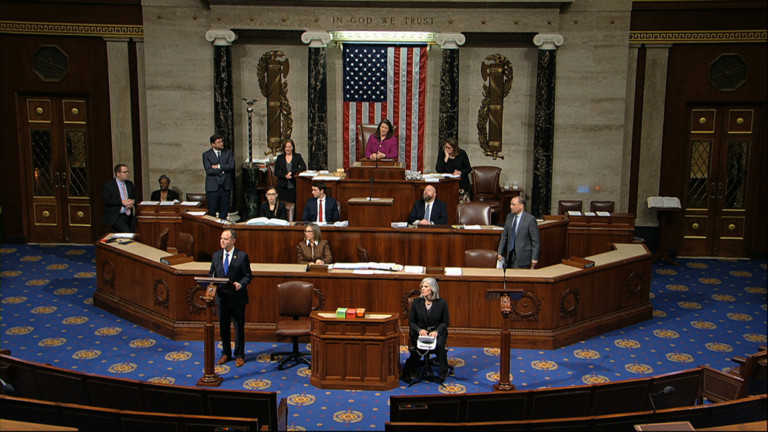 WASHINGTON, DC –  The votes are in and for just the third time in our nation's history The President of the United States has been impeached.  Around 9 o'clock Wednesday night the House of Representatives, after a day full of speeches, announced that they would be moving forward with two impeachment articles against President Donald Trump; one for abusing the office and the other for obstructing Congress.  The decision follows a committee vote and a congressional investigation into the President's dealings with Ukranian President Volodymyr Zelensky.
A majority of representatives voted 230 to 197 on abusing the office, and 229 to 198 on obstructing Congress.
In a statement, Delaware's Congresswoman Lisa Blunt-Rochester, a Democrat, says "This is about so much more than one man, one presidency or one election cycle. It is about putting into practice the ideals that we so often esteem. It is about proving to those nations around the world, to our children and to ourselves that we are indeed the nation we proclaim to be. It is about making clear that no one is above the law — not even the president of the United States."
But Maryland's Congressman Andy Harris, a Republican, had a very different take and said as much before voting against articles one and two. He says  "Instead of talking about the things that Americans care about – keeping our economy going – no instead – we're gonna pass a resolution tonight and then go home for Christmas vacation instead of doing the job for America."
At a rally in Michigan tonight, President Donald Trump said of the votes "With today's illegal, unconstitutional and partisan impeachment, the do-nothing Democrats … are declaring their deep hatred and disdain for the American voter."  As for the process moving forward, The president is still allowed to serve, all that it means is that the Republican-led Senate will hold a trial.  Once those hearings have concluded, Senators will have the chance to keep or remove the president from office. However, a two-thirds majority is required to convict the leader of the free world.  The only other two presidents to be impeached, President Bill Clinton and President Andrew Johnson were both cleared by the Senate.