Bioenergy DevCo takes over Perdue's Sussex facility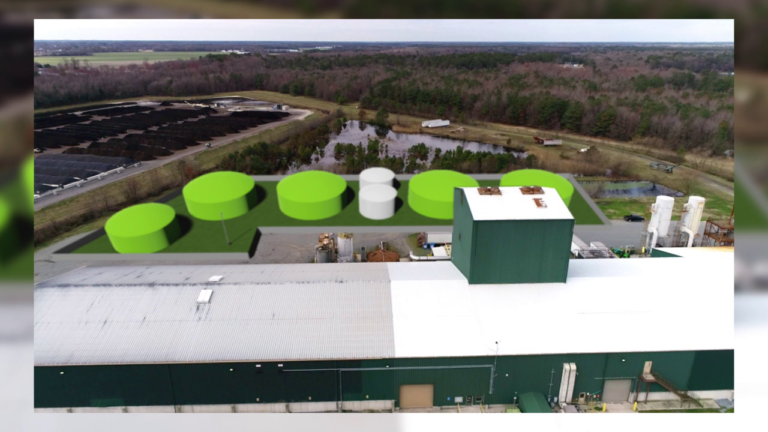 SEAFORD, Del. – "We're very confident that the technology that we bring will be successful here in Delaware," said Shawn Kreloff, Bioenergy DevCo's CEO.
Perdue Farms is celebrating after striking a twenty-year deal with Bioenergy DevCo, a Maryland company that is taking over their composting operation in Delaware.
"Perdue has made a major commitment to the environment out here," said Kreloff.
To help Perdue Farms become more environmentally friendly, Bioenergy DevCo plans to build what could be the first large-scale facility on Delmarva that converts poultry manure into energy.
"We're taking their organic material from their plants and making it to better products including renewable natural gas and compost," said Kreloff.
They will use what is called an anaerobic digester at a particular area of the site, where 100,000 tons of manure and other materials will be treated over the course of a year, without emitting nasty odors.
"It's basically a cow's stomach on an industrial scale the same microbes that are in a cow's stomach we're using on a very large scale to process this organic material," said Kreloff.
Workers at the facility in Seaford say that is good news for the environment.
"All the material is in tanks, so there's no wastewater issues associated with that material being washed into the watershed," said Kreloff.
They will also continue composting for healthy soil in the future.
"We hope to integrate these two technologies and create a whole complex here of sustainable management of the poultry industry's materials," said Vinnie Bevivino, Bioenergy DevCo's of Director of Organics.
47ABC reached out to Perdue Farms for thoughts on their agreement. While they refused to comment on camera, they did provide a statement in a press release: Our commitment to environmental stewardship is stronger than ever. We see this partnership as an opportunity to further expand on work we've done so far. With Bioenergy, we have found a partner that enables us to be more sustainable, create cost savings and help produce renewable energy while continuing to address soil health and nutrient management in the environmentally-sensitive Chesapeake Bay watershed.
Kreloff says construction is planned for next year. He says Bioenergy DevCo is waiting for permits to start construction for their anaerobic digester.