National Day Of Prayer Breakfast to take place at Wicomico Civic Center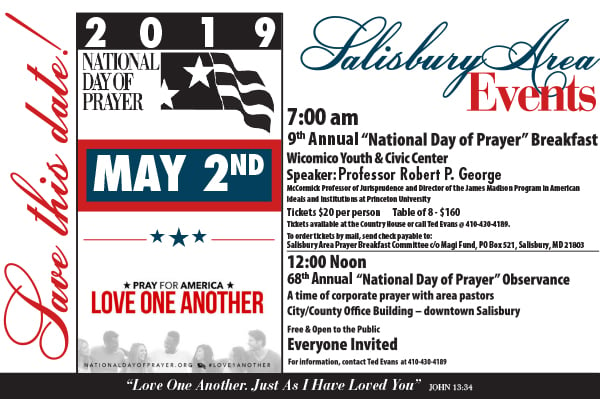 SALISBURY, Md.– May 2nd is considered National Day of Prayer and to celebrate, one local organization is bringing people together with a prayer breakfast.
47 ABC's Brooke Butler was joined by Don Hackett, one of the Committee Members from Dove Pointe to talk about the ninth annual breakfast.
The event will take place on May 2nd at 7:00AM at the Wicomico Youth and Civic Center and will feature guest speaker Professor Robert P. George McCormick from Princeton University.
The Salisbury Christian School will also be sending their high school band to perform during the breakfast.
Afterwards, the 68th Annual National Day of Prayer Observance will be held at the Government Office Building in downtown Salisbury at noon. The observance will be free to the public.
Tickets are $20 per person or $160 for a table of eight. You can purchase them at The Country House in Salisbury or by calling 410-749-1633.