Officials hold informational meeting on Massey's Ditch maintenance dredging project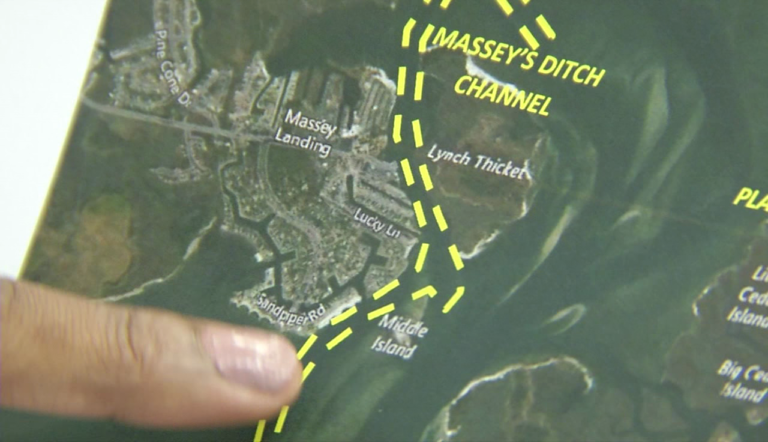 BETHANY BEACH, Del. – "It's a win-win, we're taking sand from where it's causing problems and putting it where a lack of sand is causing problems," said
Environmental Program Administrator Michael Powell.
It's an ongoing issue that's finally getting attention. In just a few months DNREC and Waterway officials are hoping to get the green light to begin their maintenance dredging project on Massey's ditch.  A project that many say can't come soon enough.
"Massey's ditch is a channel that is shoaling, which is causing navigational problems at low tide for boaters, it can be a risk, making it impossible for people to get through the channel at low tide," said Powell.
On Monday, officials held a meeting for residents in the area to come out and learn exactly just what their plans are for the upcoming project.
"It's an attempt to address that problem by deepening the channel and at the same time to take the material that is coming out of the channel and putting it on the beach north of Indian River Inlet which has been historically an eroding beach," said Powell.
The dredging project, which could cost an estimated $3-$4 million dollars, had some residents wondering exactly how officials planned on paying for it, and if it would be coming out of their pockets.
"We're going to use part of our waterways management fund that was newly created thanks to Senator Hockey and representative Gray a few years back and we'll use some beach nourishment money to pay for some of the materials going on to the beach," said Lead Planner for the Shoreline Management Section DNREC, Chuck Williams.
Officials add that their plan could help kill two birds with one stone.
"North side of Indian River Inlet has been a real erosion area where we've had storms breach the dunes and flood over route one so putting the sand into the system in that area is where it's needed," said Powell.
Some residents are concerned that the dredging project will harm the fish populations, but say they won't be starting the project until the winter which they say will not cause any harm to those fish.