Two charged in connection with domestic incident in Del.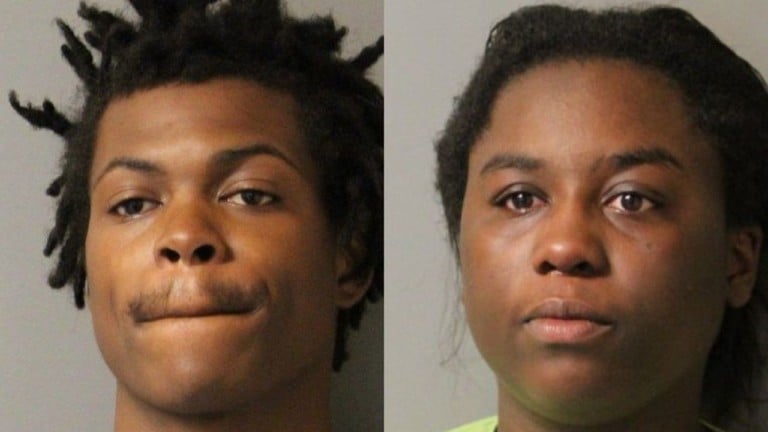 [gtxvideo vid="ESoXwtba" playlist="" pid="9FCH1Fwp" thumb="http://player.gtxcel.com/thumbs/ESoXwtba.jpg" vtitle=""]
A woman and her boyfriend were arrested after troopers say one of her brothers were injured as a result of a domestic incident in Rehoboth Beach.
Delaware State Police say on Thursday, around 11:10 AM, troopers were dispatched to the 37000 block of Johnson Street for a report of a domestic incident. Once on scene, troopers say they found a 19-year-old male victim with injuries. After further investigation, police learned that the 19-year-old victim was visiting his mother's Rehoboth Beach residence when his sister, 21 year-old Delilah Boyer of Harrington, and her boyfriend 21-year-old Marvin Burton of Rehoboth Beach showed up at the residence.
According to the report, Burton exited the vehicle and began confronting the 19-year-old. Law enforcement says this led to a physical altercation and Burton then went back to the vehicle. At that time, DSP says the victim's sister was still in the driver's seat and she placed the vehicle in drive and accelerated towards her brother's direction.
The 21-year-old woman reportedly missed the victim along with her other 22-year-old and 15-year-old brothers. Police say Boyer then hit a tree, causing the front windshield and passenger window to shatter. Authorities say Boyer was screaming and yelling as she exited the vehicle. According to the report, Boyer's boyfriend then obtained a handgun from the glove box and a struggle between him and the 19-year-old began. Troopers report that Burton then struck the 19-year-old in the head with the handgun. DSP reports that the gun was fired during the struggle and the 19-year-old victim was able to take possession of the magazine.
During that time, DSP says Boyer's 50-year-old mother exited the home and she and Boyer were involved in a physical altercation. Police say Boyer and Burton eventually went back to the vehicle and fled the scene.
According to the report, the 19-year-old vehicle was taken by ambulance to a local area hospital where he was treated and released. The 22-year-old and 15-year-old male victims were not injured. Police say the 50-year-old victim sustained minor injuries and declined medical treatment.
Troopers report that a magazine for a .40 caliber handgun loaded with bullets. Authorities say a search warrant executed on Burton's residence resulted in the discovery of a .40 caliber ammunition and a leather holster.
Police report that Boyer was located in the vehicle in the subdivision of Aspen Meadows off of Munchy Branch Road. A short time later, authorities say Burton was arrested at his residence in the 35000 block of E. Atlantic Circle.
Burton was charged with possession of a firearm during the commission of a felony, possession of a firearm or ammunition by a person prohibited (2 counts), assault second degree, reckless endanger first degree, and conspiracy 2nd. He was committed to the Sussex correctional Institution on $100,000 cash only bond.
Boyer was charged with possession of a deadly weapon during the commission of a felony (3 counts), aggravated menacing (3 counts), conspiracy 2nd, and assault 3rd degree. She was turned over to the Delores J. Baylor Women's Correctional Institution on $80,000 secured bond.