Local humane society over capacity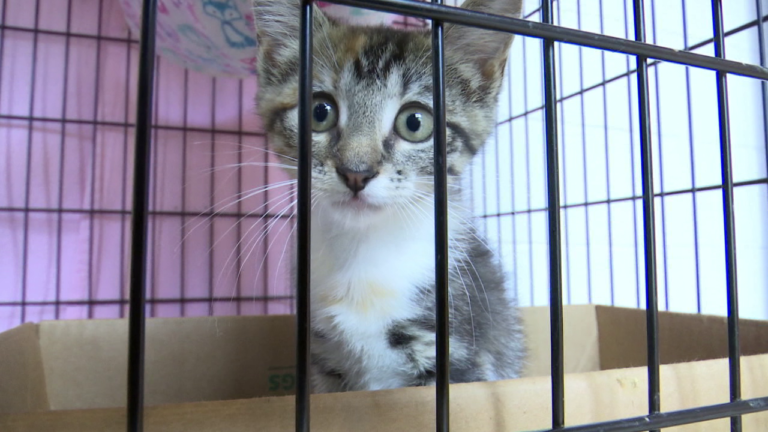 With these warm summer days, come headaches for animal shelters across the peninsula.
We are in the middle of kitten season, and this, coupled with strays being found more often and people frequently surrendering their dogs, is causing local animal shelters to reach, or even go beyond their capacity.
Jessica Summers, the Shelter Manager at Worcester County Humane Society said, "We're beyond capacity."
Shelters like the Worcester County Humane Society, don't want to turn any animals in need away, so they're having to make due with what they have.
Summers said, "We have the ability with these cats and kittens in this room, we have you know a communal room, so there are cats all over the place. If I were to put a number of cats that should be in this room, we're past it in all of the cat rooms."
As for the dogs, Summers said, "Dogs, you know, we have to stick with the number of kennels that we have, but dogs that come in together, we have two that are paired up right now and you know, that's not really ideal."
We're told the shelter is lucky if they get at least one dog adopted out each month, and while kittens are adopted more frequently, they are brought in on such a regular basis, that it doesn't really make much of a difference.
In an effort to lower their numbers, the shelter has been hosting special events to try and get more furry friends into homes.
Summers said, "We've been doing some other events with dogs at Dumsers here in West Ocean City, a few Sundays so far we've done 2-4 PM, just a little meet and greet dogs. They're giving out doggie ice creams so we try to get our dogs there to try and show who is up for adoption."
Another way the shelter is keeping up is by asking for help from the public, and the public has been quick to respond.
Summers said, "We put out a shout out the other day for cleaning supplies and I can't believe how much we've gotten. We've gotten food, people are donating bleach, laundry soap, dish soap, all that kind of stuff. I know it seems kind of boring and like you're not helping the animals, but that's the kind of stuff we need."
If you're an animal lover and you're thinking about adding a new furry member to your family, you are encouraged to pay a visit to your local shelter.
Summers said, "Just come in, spend some time, you don't need to rush into anything. What we say is it is always best people to let a cat or dog to pick them."
Worcester County Humane Society also told 47ABC August 17th is national Black Cat Awareness Day, so to celebrate, the Humane Society will be hosting an adoption special all throughout the month of August, where you can name your own price when you adopt a black cat, and by adopting these kitties, you'll be helping out the shelter.
If you want to help out your local shelters and you're not ready to adopt a new family member, we're told donations of cleaning supplies, food, blankets and toys are always welcome.
You can also volunteer at your local shelter as a dog walker.
The Worcester County Humane Society told 47ABC they will be holding the following two events soon to help get their cats and dogs adopted.
Some of their cats will be at the Petco in West Ocean City from 10AM to 2PM on Saturday.
Dogs will pay a visit to the Dumsers in West Ocean City from 2PM to 4PM on Sunday.