Kayaktivists make a big splash during 'Float For The Coast'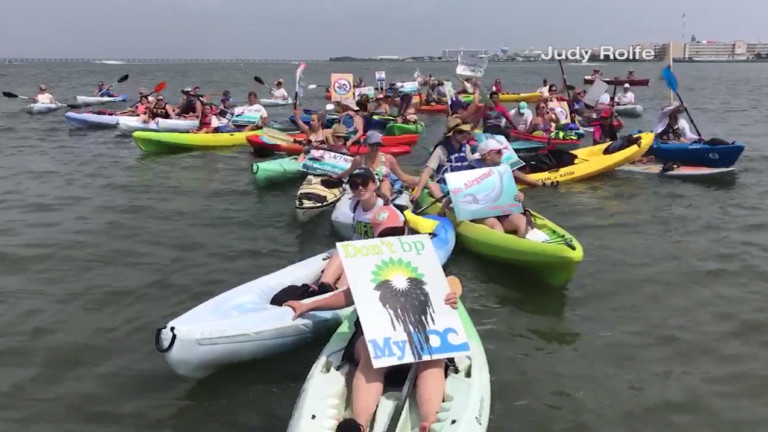 In Ocean City, dozens of kayaktivists looked to make a big splash during the Assateague Coastal Trust's 4th annual Float For The Coast event.
"We're out here just trying to be a voice for our coast," Matt Heim, Oceana Mid-Atlantic Organizer.
Kathy Phillips, Assateague's Coastkeeper adds, "It's a great way to get people out on the water and enjoying the clean water we do have here in Ocean City."
It's called Float For The Coast and the goal, well it's all in the name, as nearly 60 so-called kayaktivists take to the bay to be a united voice for our waterways.
"Uniting does a lot and it makes your, it makes it seem like you are heard more in a large group and it's great to be with like-minded people who are also pushing for long-term sustainability for the health of our earth," explains one kayaktivist, Kerry Fitzpatrick.
Phillips adds, "They don't want to see drilling off the coast of Maryland. They want to see cleaner, more sustainable energy production in Maryland, solar and wind. We have to end the plastic pollution."
And what better way to promote bay health than to raise up your paddles.
"To know that our waterways are clean enough here that everyone can come out today and have a great time and splash around in the water and not have to worry too much. We're not covered with algae and we don't have what's going on in Florida happening up here so let's keep it that way."
Phillips continues, "The more the people are out on the water, the more they begin to appreciate what they have and they become better spokespeople for their local waterways."
Assateague Coastal Trust has also spearheaded a new campaign to bring attention to the plastic pollution on our local beaches. It's called Trash Free Assateague, to become a volunteer you can do so ActForBays.org.
But if that's not your cup of tea, there's another event that does the trash pick up for you. It's called the Splash Trash Art Expo and it's taking place on Saturday, August 18th at the Assateague Visitor center.
Artists from all over the world head down to their local beaches and collect the abundance of plastic trash on the beach and then they go back to their studios and create amazing works of art.
Phillips says, "What they're hoping is their art will make people realize 'Oh my gosh, that's beautiful' but 'oh it's all made out of plastic trash' so we have to work harder to recycle, reuse properly, dispose of plastics."
The expo will begin at 2 p.m. Saturday, but the video of the splash trash art will be available for viewing at the visitor center theater through August 24th, from 2 p.m. to 5 p.m. each day.