Thousands attend 42nd annual Tawes Crab and Clam Bake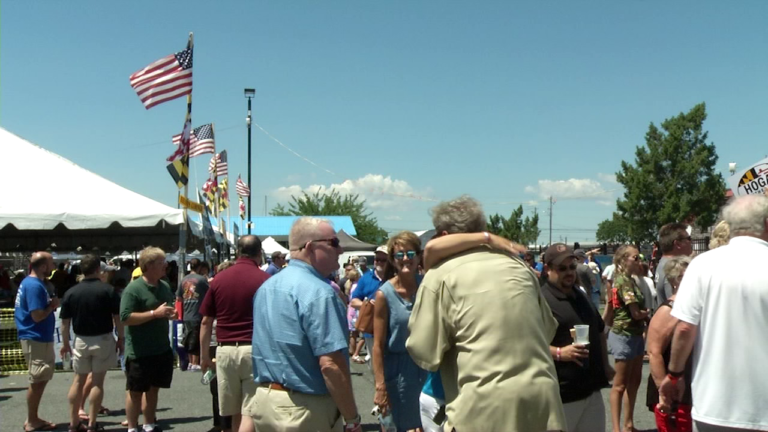 It was the perfect day on Wednesday for the 42nd annual Tawes Crab and Clam Bake in Crisfield.
This is a very historic event that draws politicians in from all over the state.
The bake was named after J. Millard Tawes, a Crisfield native and the 54th Governor of Maryland.
The event started as a way to fundraise for the J. Millard Tawes Historical Museum, but now all the funds raised go towards things like the Crisfield Heritage Foundation, Crisfields schools, the police department, the fire department and more.
The Crab and Clam Bake also gives people the opportunity to meet with their lawmakers and for Crisfield, it serves as a way to attract more people to the Crab Capitol of the World.
Daniel Thompson with the Somerset Economic Development Commission said, "So it actually, I mean, we get an influx of visitors that are coming in so it's a chance not only for them to come here and enjoy the Eastern Shore cuisine, but it's also a way for us to tell our story of what's unique about Somerset County and the City of Crisfield."
The population of Crisfield is about 2,800 but on Wednesday, the city was likely to have more than 5,000.
On top of the attraction Tawes brings to Crisfield as well as the historical significance behind it, it serves another purpose.
The crab and clam bake allows leaders of smaller towns and cities to get together and brainstorm ideas to better their municipalities all while cracking into some delicious Crisfield crabs.
In addition, leaders were able to speak to politicians higher up than them to address concerns or even ask for change.
People with the Maryland Municipal League told 47ABC getting together with other local leaders is critical to the ongoing success and growth of Maryland's municipalities.
Bridget Donnell Newton, the President of the Maryland Municipal League said, "Municipal government is the closest to the people. We are the ones that make sure of safety every day. Sidewalks, streets, police, we're there everywhere so it's really important no matter your size. The best thing I can say for any city is know who yo are and then work together everybody come together. It's a non-partisan issue in municipalities. It's all for the people, it's for our towns."
The Crab and Clam Bake isn't only significant for Maryland's municipalities, it serves as a way for politicians running in the midterm election to get to know their voters and express what issues they hope to address if they are elected.